Japanese animation holds a special place in the world scene and among fandoms for its diversity and championing of 2D animation techniques. This is very justified and has only become a stronger tendency now that an increasing number of animation creators outside Japan make their anime references and inspirations explicit. However, this does not mean that Japan is the only interesting country in terms of animation production and creation – far from it. In the last few years, the animation scene has become increasingly international, as the medium has grown more popular worldwide and new actors have been emerging. France is one of those countries where animation has become an incredibly diverse and dynamic field.
Like our content? Feel free to support us on Ko-Fi!
The country can boast of a long tradition of animation creation, from the earliest days of the medium, thanks to the work of pioneer Charles-Émile Reynaud in the late 19th century. However, although the country gave birth to some great animation creators and still houses one of the most prestigious animation schools in the world (the Gobelins), it has always been challenging to establish a national style, or even nationally or internationally renowned studios as is the case of Disney in the US, or Toei and then Ghibli in Japan.
But recently, things have been moving in a good direction. Production isn't becoming centralized over a single studio – which is all for the better – but it has been steadily developing around a few studios and artists. They are not, by any means, a cohesive group sharing aesthetic or philosophical common ground. But there are similarities among at least some of them. They mainly work with 2D techniques, are starting to produce more ambitious features, and are fighting to make animation recognized as a medium of its own and not just a minor genre aimed at children. 
This article will not give a complete panorama of contemporary French animation: it is much broader than one imagines, with internationally-famous outsourcing studios (Fortiche Productions, the ones behind the currently popular Arcane, being an excellent example of that) or indie artists. What I will do here is more straightforward: I will highlight new or upcoming releases and their context.
Patrick Imbert, Studio Folivari, and The Summit of the Gods
The artists behind the first project I'm going to cover are perhaps little-known overseas, yet they are the ones because of which this article is written. That is, to coincide with the international distribution of Patrick Imbert's The Summit of the Gods (Le Sommet des Dieux).
Even in France, Imbert isn't a very famous or well-established director yet. However, the studio behind the movie, studio Folivari, is rising to be one of the country's most important animation production companies. Indeed, it was created by Didier Brunner, one of the most renowned animation producers of the last decade: he was behind the French movies Kirikou, The Triplets of Belleville, and Ernest and Célestine, but also the more European production Brendan and the Secret of Kells. In 2014, just as he was going to retire, he was convinced by his two children Damien and Pauline, to supervise creating a new studio, Folivari. In 2017, their first feature project came out: it was the omnibus Le Grand Méchant Renard et Autres Contes (The Big Bad Fox and Other Tales), a children's movie co-directed by Benjamin Renner and Patrick Imbert.
It was during this movie's production that The Summit of the Gods project started taking shape. It is an adaptation of a manga by Jirô Taniguchi, an artist relatively unknown even in Japan but extremely famous in France: his success with audiences that didn't usually read manga throughout the late 2000s played a significant part in the legitimization of the genre. In 2013, producer Jean-Charles Ostero acquired the rights to the manga; he then met Brunner, entirely by chance, at the Annecy festival, and they started collaborating. As the movie was during the initial brainstorming phase for script and design, Imbert, who was actively working in Folivari, slowly started taking more and more room on the project until he was finally chosen as director. The movie is a relatively small-scale production by European standards: a co-production with Japan was initially considered but didn't happen. The work was split between 2 French studios and the Luxembourg-based Mélusine Productions.
The greatest strength of The Summit of the God is that, even though it's an adaptation, it retains a strong sense of identity: Taniguchi's designs were entirely reworked and simplified, the extremely long plot of the manga was cut to only keep the essential aspects, and even the body language of the characters is distinctly French rather than Japanese. However, the one common element is in the realism: the movie is entirely 2D, and except for one or two scenes where rotoscoped 3D seems to have been used, it maintains a very high level of quality. This is exceptional, as realistic 2D characters acting on such character designs would be a feat anywhere, especially in the current French landscape. This is even more impressive considering that the movie is about mountaineering, i.e., something involving complex physical activity. The animators were assisted by professional alpinists who could provide advice and reference footage to ensure that everything was consistent and believable.
But the real highlight isn't even this. In terms of animation proper, it is the effects: some of the snowfalls and avalanches are breathtaking in the way they convey textures. More generally, it is the art direction. The movie as a whole is built around it, with impressive sceneries and carefully-planned shot compositions. While today, many animated movies are design or art direction-driven (see, for example, Wolfwalkers or, to remain in France, Calamity), the way The Summit of the Gods is directed is slightly different and is perhaps the best proof and example of anime's influence over Patrick Imbert and his team: the storyboarding and art direction work hand in hand, at an equal level. This entails that shot compositions and editing, properly cinematographic techniques that anime has always focused on, are polished.
Jérémie Périn, from Lastman to Mars Express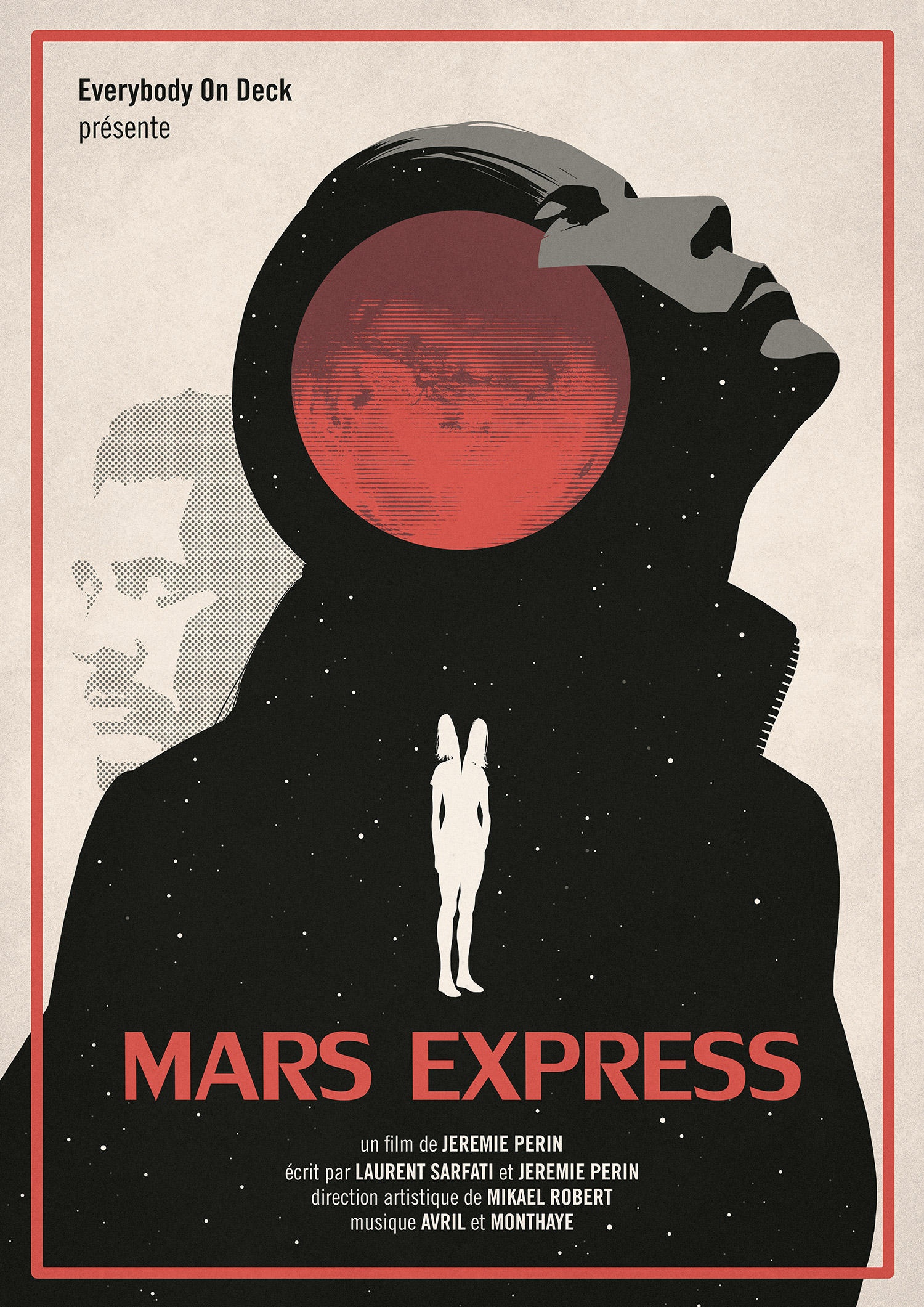 The second artist covered here has quite a different profile since he is more experienced and cultivates the image of an auteur, something that's still rare (but less and less exceptional) in the commercial European animation scene. This is Jérémie Périn, who started as a freelance animator and director on various shorts, movies, and music videos. However, since 2007, he has been chiefly associated with animation studio Je Suis Bien Content, who were the ones to produce his most famous work to date, the TV series Lastman, in 2016.
Lastman is, by all means, a one-of-a-kind project in French animation history: the prequel to a popular bande dessinée series. It is an animation show for adults, produced entirely in France. Accordingly, the production was trying: one of the initial sponsors backed out of the project mid-production, leading the last episodes to be financed through a Kickstarter campaign. Moreover, the broadcast station France 4 changed strategy just as Lastman was supposed to come out: the series ended up being aired late at night, by chunks of 6 episodes at a time.
Despite all these difficulties, Lastman received much support from dedicated fans and quickly became a cult classic in France. Since then, it has been distributed on Netflix, and the series is now available worldwide. This extraordinarily well-made and fun show certainly deserves more recognition overseas. A second season is currently in production and should come out in the next few months, but Périn and the writer from Lastman, Balak, will not be present. Indeed, they wanted to move on from "big, muscular men" and have since 2017 been working on an even more ambitious project: an SF thriller feature film titled Mars Express.
Mars Express is, just like Lastman, something hazardous: an original animated movie for adults is certainly a bold move. But the greatest advantage Périn and his team have is that studio Everybody on Deck backs them. This French producer isn't specialized in animation, like Folivari, but instead mostly makes live-action films. They, therefore, have a better, more credible presence in the distribution world, in which animation still plays a tiny part. Like The Summit of the Gods, if Mars Express is a success, it will mean a bright future for adult-oriented animation features in French; if not, it may make it increasingly difficult for producers to keep funding such projects.
In any case, Mars Express appears very promising, according to what was shown to us during their Work in Progress at the Annecy International Animation Film Festival. Although the various animation companies behind it are sometimes far apart (one of them is in the Réunion island, an overseas department located in the Indian Ocean), they are all in France, making this a genuinely national production. In another parallel with The Summit of the Gods, Mars Express promises to have a strong Japanese influence, both in its themes, atmosphere (Périn mentioned Gundam and Patlabor in various talks about the movie), and aesthetic: it will aim for a realistic kind of 2D animation. Things are as traditional as possible, with the 2D work being made on Animate, with a significantly reduced use of rigging and puppets. The most exciting aspect is that this isn't just a product of a specific workflow but also of aesthetic demands: the movie's setting will be rife with interactions between humans and robots, the latter being animated in 3DCG to differentiate them from the former. Périn has expressed the need for that difference in the motion itself, thereby giving a lot of thought and importance to the practical way things are made.
The new direction of studio Ankama
The last team I'll cover is by far the oldest, most important, internationally-oriented, and well-known, especially for anime fans: that's studio Ankama. In France, Ankama is iconic for the entire generation born between 1995 and 2005 as the developer of two popular MMORPGs, Dofus and Wakfu, around which they progressively developed a whole transmedia universe: manga-like comics (named "Manfra," a word born out of the collage of "manga" and "France"), music, toys, and of course animation: Ankama Animations was created in 2007, and the TV show Wakfu started airing the following year. It only ended in 2017.
What's important to know is that, before all that, Ankama was a web design company that specialized in Flash-based solutions. Both Dofus and Wakfu were based on Flash, and it is no surprise if Ankama Animations was also one of the pioneers of the Flash animation technique. It is even said that Masaaki Yuasa and studio Science Saru adopted Flash because they had been encouraged to by Ankama artists. But Ankama didn't stop there: the early 2010s were an actual golden age for the studio with multiple feature projects, stop-motion or 2D animation series, and many shorts.
In terms of organization, it also grew in many diverse directions. For example, there was a short-lived Japan division named Ankama Japan that existed between 2009 and 2011. During their employment at Ankama Japan, Masaaki Yuasa and Eun-Yeong Choi witnessed how the methods developed by Ankama were able to fluidify the workflow. When the studio disbanded, he recruited Abel Gongora and Juan Manuel Laguna, two of the studio's most talented animators, to work with him on future projects and apply the methods learned at Ankama on Science Saru's productions.
The current organization of the studio, however, rests on a 3-part structure. The parent company Ankama Animation currently supervises everything and houses the directors and producers. The animation production proper takes place in studio MadLab animation, created in 2017, and Studio No Border, a more independent subsidiary company located in Japan, often subcontracts for anime studios.
In the 2010s, besides the many series, Ankama has produced two feature films, which are sadly representative examples of how difficult it is to market animation in France and how ambiguous the studio's position sometimes is. The first was the Dofus movie in 2015, directed by Anthony Roux (nicknamed Tot) and Jean-Jacques Denis, which was supposed to be the first part of a series. Despite its extremely solid animation and visual qualities, the movie's writing was heavily criticized, and it was a complete flop at the box office. The second movie was Mutafukaz in 2017, an adaptation of one of the first BD Ankama published between 2008 and 2015. The film, co-produced with the Japanese studio 4°C, was co-directed by the original author, Run, and the Japanese director Shôjirô Nishimi. Once again, the movie was technically solid but had a complicated distribution history. While it came out easily in Japan, it took Ankama a year to find a distributor in France. However, it was also distributed internationally and was made available in the US thanks to GKids.
Today, the most anticipated project by Ankama is the latest work by the team from Dofus, the movie Princesse Dragon (Dragon Princess). After the failure of their previous work, Tot and Denis have decided to change orientations completely and have made a fairy-tale-inspired, relatively short feature for children. This is a somewhat cautious move from the studio, which is taking a step away from its original trademarks (pop-culture-inspired movies for teenagers) to aim towards the "traditional" animation market in France.
However, from the technical and aesthetic sides, Princesse Dragon is far from a step backward. Quite the contrary as it marks the end of Ankama's use of Flash: the movie was made in "traditional" 2D animation with the software Harmony. The 2D animation was made in France, while the 3DCG parts (one of the dragons and some background animation) were handled by No Border. This choice of "traditional" techniques perfectly complements the movie as a whole, which is far-off from the exuberant, action-packed spectacles of Dofus and Mutafukaz. On the contrary, it is a poetic and simple movie, relying on subtle, subdued character acting and a more simplistic direction – even the superbly animated action scenes have a remarkably readable approach to storyboards.
Everywhere around the world, national animation production has long existed and developed, whether commercial or indie. France has always had an ambiguous place in that framework, not as important as big countries like the US, Japan, or Russia, but not a minor contender either. It seems like things might change today as French animation studios and creators become increasingly acknowledged through their productions. The development of feature films, especially original stories aimed at a wider audience than just children, can indeed play a large part in that process. The works highlighted here are just a taste of all that French animation has to offer, a review of sorts of recent or upcoming projects that are promising and will prove to be of interest outside of France. Indeed, all the creators mentioned stand out not just for their talent or ambition but also for the diversity of their inspiration. This will strike a chord among anime fans: the contemporary developments in French 2D animation are proof of the dynamism of the local industry and Japan's enduring influence in the world animation scene.
Like our content? Feel free to support us on Ko-Fi!
You might also be interested in