About Full Frontal
The year is 2048. In a world facing destruction only hearts blazing with passion can save the world! Amidst this chaos, a young girl named Fufuro-chan has yet to find her path. Little does she know that her innocent soul will be the key for a new tomorrow.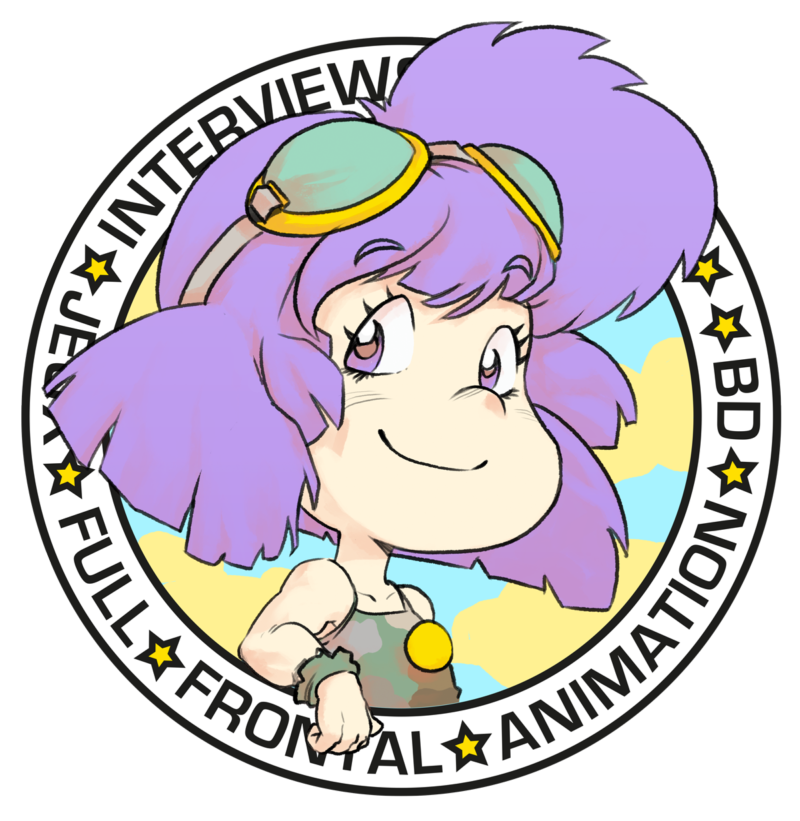 Welcome on Full Frontal!
Full Frontal is a temple devoted to passion. Created by a team of devoted fans we want to share our love for animation, manga and other subcultures and reach people's hearts. You will be able to find chronics, analysis, interviews, and translations striving to understand the big picture of otaku culture as a social phenomenon. From the bottom of our hearts, we hope that you will enjoy our content.
The Team
Dimitri Seraki – Founder, Chief Editor
Anime flows through my veins and keeps my blazing heart beating. I have devoted my time to learning about Japanese animation from 1917 to nowadays. Radically and politically otaku.
Arnaud Bastié – Co-Founder, Illustrator, Writer
Fufuro-chan's father. Computer engineer and self-taught illustrator, Arnaud is passionate about manga, anime aesthetics, and storytelling. He has an unconditional love for hot-blooded shônen manga. The 80's otaku culture is his religion, Otaku no Video his bible.
Matteo Watzky – Editor, Reporter, Writer
Matteo likes to take anime too seriously, here or on his blog Animétudes. He is also the #1 Yoshinori Kanada fan on earth.
Ludovic Joyet – Reporter, Interpreter, Photographer
Following his career as a child actor Ludo has considered himself to be an early pensioner. He dedicated that free time to learning Japanese, attending many SF Taikai, and collecting treasures that would make any anime-otaku envious. It took a long time for our chief editor to convince his shishô to join the team, but ever since, Ludo has been conducting interviews and covering events for the website.
Josh Dunham – Editor, Writer
Creator of Wave Motion Cannon and host of the Senpai Coast to Coast podcast. Josh helped define what fullfrontal.moe would become. When not watching a film or podcasting, he plays guitar pretending he's Jimmy Page. He grew up on comic books, likes board games, and long walks on the beach.
Antoine Jobard – Writer, Translator
Antoine devotes his life to understanding the otaku culture and its social implications. One could say he has become an otaku-otaku. If you meet him in person, you could mistake him for Amuro Ray.
Jamal – Writer
Host to the Get in the Mecha Podcast, Jamal tries to make sense of anime's specifics and everything else. Has also been collecting superhero comics for years.
Avery Hodge – Writer
Avery is an animator, using his knowledge and understanding of animation principles to break down scenes to their fundamentals.
Fabrice Renault – Translator
Fabrice has been a coordinator and interpreter for Japanese Artists for the sake of a variety of European events. Currently, he is in charge of Japanese relations for SEFA Events, which organizes the largest European convention dedicated to anime and manga, the Paris Japan Expo. Fabrice has been contributing to fullfrontal.moe through his network, expertise, and skills allowing us to conduct our interviews with Japanese artists.