On Wednesday, June 15th, 2022, Naoko Yamada was at the Annecy festival to hold a work-in-progress session about her subsequent work in studio Science Saru: Garden of Remembrance. She was accompanied by studio staff, most notably the CEO Eunyoung Choi, who drove the conversation for the hour and a half of the panel. As Choi couldn't be there and attended from Zoom, the communication was sometimes a bit difficult. Still, the atmosphere was great: Yamada introduced herself in French, sharing her love for white wine and rosé wine. We could feel the mutual admiration between the director and the producer.
Like our content? Feel free to support us on Ko-Fi!
In fact, before getting into the topic of Garden of Remembrance, both women discussed their relationship and how they became aware of each other. That may sound surprising, but Choi had never heard of Yamada until 2017, when Koe no Katachi was in competition at the Annecy International Animation Film Festival alongside Science Saru's Lu Over the Wall – which won the prize for best movie at the Festival that year. As for Yamada, she discovered Choi's work on the ending of Ping Pong in 2014 and became an instant fan – she was pretty intimidated when she finally met Choi. Still, Eunyoung Choi and Yamada have developed a strong bond, and Choi tries her best to gather the talents Yamada wants to work with.
Now, let's move on to Garden of Remembrance proper. There was no detail on the staff or the time of release (though the pre-production appears to be mostly over and the short's website indicates a 2023 release), but there was still quite a lot to learn.
It all began when a producer approached Choi from music production company Avex with the offer of making a music video. Yamada has always put a lot of importance on music in her works, and she confided she was herself a musician in highschool, as she played the guitar and, despite only knowing three chords, loved to play some Cindy Lauper. As such, when Ms. Choi offered her this project, she was immediately interested. As Yamada told it, she often heard her style described as "feminine," – but as it's not intentional, she doesn't quite know what that means, so she decided to explore and challenge that in that new work. For that reason, she collaborated with rock singer Lovely Summer Chan, whom she described as someone who's "proud to be a girl" and whose work is very powerful, even "invincible," without ever losing sight of her own femininity. While these ideas have always been present in Yamada's work, it seems that the more openly feminist turn she's taken with Heike Monogatari is only intensifying.
The choice of the original character designer was made according to the same principles. Yamada asked for the collaboration of female manga artist Etsuko Mizusawa and expressed much admiration for her work. The words Yamada used could easily be lost in translation, but they were all extremely expressive: Mizusawa's characters and stories "smell" or even "reek" femininity and are appealing because they are "incredibly fetishistic." Meanwhile, Mizusawa's art manages to strike a balance between cuteness and realism; as Yamada herself concluded, "we're talking about women here, not pretty candy or flowers."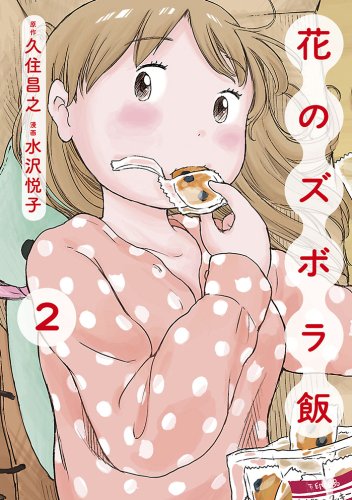 A glimpse at Mizusawa's "cute" and "fetishistic" art: the cover from volume 2 of her debut manga, Hane to Zubora Meshi
In that sense, the visual approach of Garden of Remembrance is the complete opposite of Yamada's work in Kyoto Animation, especially Liz and the Blue Bird. In that latter movie, Futoshi Nishiya's character designs were tall and slim, with thin lines and an almost abstract direction. Here, the three main characters (One man, "Me," and two girls, "You," and "Childhood Friend") are small and round; the style is quite reminiscent of Toshinao Aoki's work on Hisone to Masotan. Yamada summed up her and Mitsuzawa's intent in another difficult-to-translate expression – it should be "fleshy" and "appetizing" to the point of being "fetishistic" in order to match as much as possible women's bodily experiences. Choi commented on Yamada's choice of words, noting that the director is both "poetic" and "comical" and always manages to get her point across.
As for the production itself, it grew out of the duo formed by Yamada and Lovely Summer Chan. They began with brainstorming sessions and came up with a series of more-or-less random keywords (from the aforementioned "fetish" and "fleshy" to images such as "drunk" or "ashes"). With those keywords, Yamada wrote a "poem" on her own, presumably the basis for the song's lyrics, and then proceeded to work on the storyboard. It's from this storyboard that Lovely Summer Chan started composing – it seems the final tune hasn't been completed.
Garden of Remembrance should be quite long for a music video – the pre-production documents that were shown indicated a length of 178 cuts, which amounts to something like 10 to 15 minutes. It should be divided into five parts.
The work-in-progress panel was a bit frustrating in some aspects – we never got any details on the precise plot of Garden of Remembrance – but also quite fulfilling in some others. Seeing Naoko Yamada and her positive energy was a treat, and the Annecy audience and festival staff offered her a warm welcome. She seemed happy to be here and was incredibly kind and open. At the very end, we also got a piece of important and wonderful news: according to Choi, Science Saru is planning to produce a feature film directed by Yamada. As it only seems to be in the very first planning stages, it may not come out before some time – but it at least confirms that Yamada's future is in Saru and that it should be a bright one.
Like our content? Feel free to support us on Ko-Fi!
You might also be interested in