If you have paid attention to animation festivals these past years, you couldn't have missed the name Miyu, who, whether it is their production or distribution company, is winning prizes at all animation and movie festivals. At this year's Annecy International Animation Festival, the Crystal for best feature film was won by Chicken for Linda!, a movie produced by Miyu Production, the production branch of the French company founded in 2009 by Emmanuel-Alain Raynal.
One of the current projects they are producing is a co-production with Japanese animation studio Shin-Ei Animation, well-known for being behind the Doraemon and Shin-Chan anime, a feature film adapting Takashi Imashiro's manga Ghost Cat Anzu. We had already the chance to get a first look at the project during the Niigata International Animation Film Festival and got to get some more information about it at the Annecy International Animation Film Festival during the movie's Work in Progress session, which was attended by animation superstars such as Guillermo Del Toro and Rintaro.
Like our content? Feel free to support us on Ko-Fi!
The co-production started when Miyu Production's founder Emmanuel-Alain Raynal met with the film's director Yôko Kuno at the New Chitose Airport International Animation Festival. He was interested in co-producing a short film with her and learned that she was working on a feature film. Miyu joined in and helped bring in the funding, which had been an arduous task before their participation. But even then, because there is no treaty between France and Japan for co-production, it's still difficult to secure funding and grants, although the firm's reputation and contacts have helped. Miyu is also involved in the creation process as they produce all the backgrounds, choose the colors, and have a say in the writing and artistic choices.
The director, Yôko Kuno, got herself noticed very early as her graduation movie Airy Me got a lot of attention. At only 23, she was appointed rotoscoping director on Shunji Iwai's The Case of Hana and Alice, where she met Keiichi Kondo, assistant live-action director on the movie and producer of Ghost Cat Anzu. Keiichi Kondo has been working as an assistant to many live-action directors, such as Sion Sono and Shusuke Kaneko. While he was working as an assistant to director Nobuhiro Yamashita, who is co-directing Anzu, he stumbled upon a volume of Ghost Cat Anzu, which had been left there by the director. It's the story of a ghost cat that had a fulfilling life and isn't doing much; you follow the daily life in the Japanese countryside. There isn't a lot happening, and, according to Keiichi Kondo, it lacks the characteristics of what people expect from anime, and that is the reason he thought it would be interesting to turn it into one. He contacted Yôko Kuno and offered to make a movie about Anzu, which she accepted as she was already a fan of it. Keiichi Kondo's former university professor, director, and writer Shinji Imaoka, was called to work on the script. Because the original manga is a collection of short stories, it was decided to add an original character for the movie, a little girl who gets help from the ghost cat.
Pre-production started, and a first pilot was made to try and convince sponsors, as since the original work isn't well known and rotoscoping isn't very popular, it was hard to get people interested. Nobody wanted to produce it, not because they didn't see the appeal in it, but because it was bound to be difficult.
After five years of production and getting turned down by sponsors, Shin-Ei's management suggested to Keiichi Kondo to give up and move on to a new project. That is when Yôko Kuno met with Emmanuel-Alain Raynal, and Miyu Production joined in, which allowed the movie to carry on with its production, more precisely with the production of another 3-minute pilot. This second pilot's goal wasn't only to try and convince sponsors but also to test out the workflow between the two studios and get an idea of the production costs for the movie and be able to test out different rotoscoping processes and how to distribute the workflow between France and Japan. As such, it was decided that Miyu would take care of backgrounds and the general art direction, but the tasks themselves would be done in Japan and be able to allow more time for research and development of the style from the first steps all the way to compositing.
Director Yôko Kuno noted that it is rare for anime to use rotoscoping, its use is usually limited to dance scenes. They tried to leverage it in the production of this movie by relying less on the storyboard and picking up more of the spontaneous and lively aspects that come from working with real actors and the details of small and delicate movements. That is felt in the final result as it does not look anything like what we are used to with rotoscoping. That may be the result of the director's intent to have a feeling that reminds that of analog cellulo anime with very detailed and colorful backgrounds that contrast with the simpler characters.
The co-production hasn't been without challenges, the most obvious one being the language barrier. The production of the pilot allowed the teams to realize they had to put in place more efficient processes as shared documents would often end up mixing French and Japanese, necessitating long video calls to untangle them. That also meant that they were relying too much on their interpreter, Shoko Takahashi, to handle the exchanges, and they couldn't expect her to be available the whole time on the scale of a feature film production. Another challenge that appeared was the coloring step itself, as the working methods of Shin-Ei and Miyu were not compatible and caused a lot of time to be wasted on transcoding files, transforming elements, and making sure that both parties could use them.
After the production of the pilot Julien De Mann, who had worked on the backgrounds of Blind Willow, Sleeping Woman, and The Red Turtle, was called to come work on the movie. According to the film's director, Julien is able to draw backgrounds that perfectly capture the atmosphere of Japanese locations but in ways that Japanese people are unable to draw because a Japanese artist, through his influences, Ghibli, amongst others, would focus on blueish tones. Julien, whose starting point was the paintings of post-impressionist artist Paul Bonnard, dares to use less common colors such as purple or orange. After shooting the scenes, the team at Shin-Ei would work on the rough layouts while Julien worked on the color boards for the scenes in parallel.
After the pilot, two scenes of the movie were shown. If the pilot is very nice, one could feel disturbed by some rotoscoping micro-movements. But the rotoscoping in the two scenes shown after was absolutely invisible, and the new artistic direction turned it more original and gorgeous. We couldn't help but notice that the characters in the film, except for the little girl, are completely different in size and proportion from the real actors. The rotoscoping process is, therefore, even harder, but it forces the animators to adapt, to erase the rotoscope-related uncanny feeling and give them maybe more creative freedom. Although it seems that Ghost Cat Anzu is the direct successor of The Case of Hana and Alice in terms of staff and technique, this new project's rendering is totally different from its predecessor and, frankly, so much nicer.
The production is going smoothly. Right now, all the layouts of the movie have been finished, and they are working on the key animation and have also started the compositing work. They hope to be able to present the finished movie at the Annecy International Animation Film Festival in 2024, and we look forward to seeing the final result of this collaboration.
Written in cooperation with Emilia Hoarfrost.
Like our content? Feel free to support us on Ko-Fi!
You might also be interested in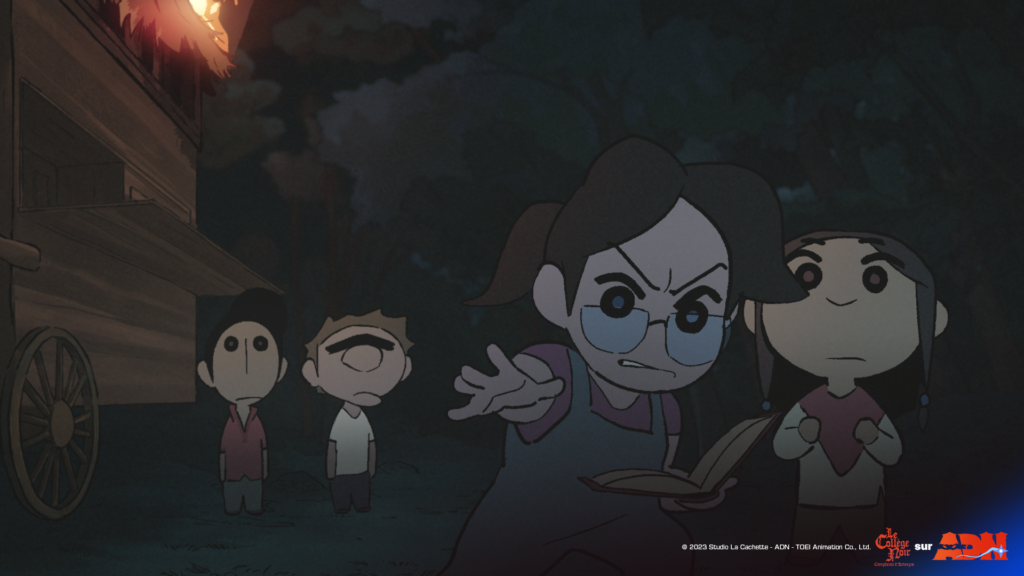 kofiWidgetOverlay.draw('fullfrontalmoe', { 'type': 'floating-chat', 'floating-chat.donateButton.text': 'Support Us', 'floating-chat.donateButton.background-color': '#794bc4', 'floating-chat.donateButton.text-color': '#fff' });