The cleaning of Fuchi no Mori, a forest located near Hayao Miyazaki's residence, gathers volunteers to help the famous director maintain the place, ensuring its cleanliness and upkeep. Volunteers are then thanked by being able to address a few words to Mr. Miyazaki.
In January, I was able to take part in this year's event. Today I will tell you all about how I met with Hayao Miyazaki. I will also give more insight into Miyazaki and Studio Ghibli's involvement in the preservation of forests and wildlife.
Like our content? Feel free to support us on Ko-Fi!
I was invited to the event by a friend from college who took part in the event a few years back. He is acquainted with Makoto Kikuchi, who has been living in the Tokorozawa region is well known in the area for always giving a helping hand. Since Makoto is always helping around, he naturally became friends with Hayao Miyazaki, who is living in the same neighborhood. Thanks to Makoto, my friend had been able to meet with the director, and he thought I may be interested in meeting him too. Obviously, he was right; I would never miss a chance to meet the world's most renowned anime director.
On the 19th of January, then, accompanied by three other Frenchies, we set off west of Tokyo towards Fuchi no Mori, at Higashimurayama in Tokorozawa, Saitama Prefecture. We met with Makoto at the entrance of the forest. After paying a symbolic fee of 200 yens (2 dollars), we could enter into the woods. As soon as we took our first step into Fuchi no Mori, we passed next to Miyazaki himself, followed by Suzuki Toshio, his friend, and producer.
A small speech concerning the event's goals and a word of thanks was given by Miyazaki, all of it recorded by some television channel. The almost hundreds of volunteers who came this day started to work in this small and modest forest, picking up branches and cutting out weeds.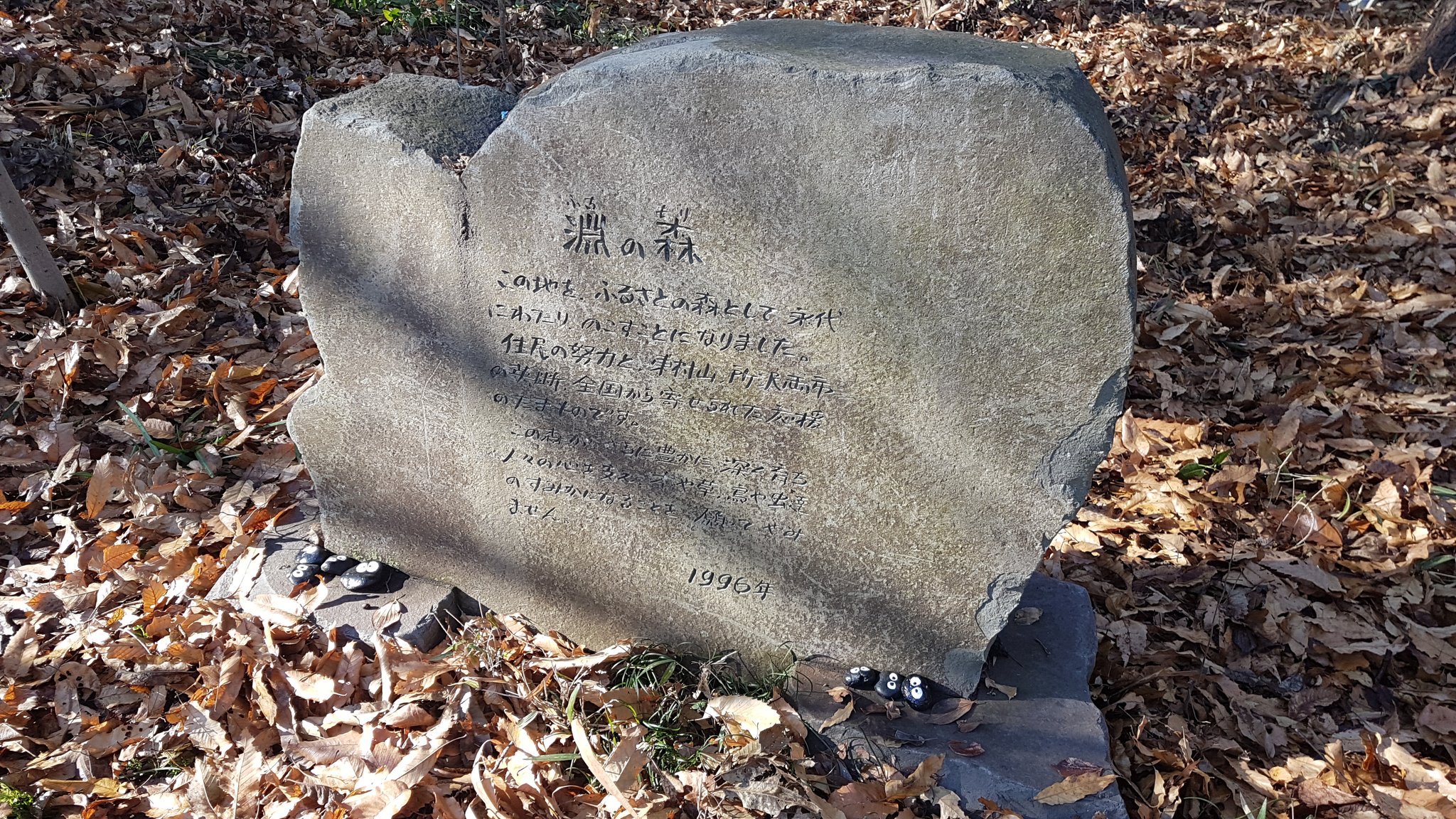 The stone engraved by Hayao Miyazaki inside the woods
The wood is quite small and situated just next to Miyazaki's house. It is well known for being his inspirational forest, a place where the director likes to rest and wander to find ideas for his new works. As he confirmed to us later on, he built a bench and engraved a stone himself inside the forest, showing his attachment to this place. The volunteers were mainly people living in the neighborhood and, since the work wasn't that big of a deal, as I talked with my friends, we quickly finished the job in about an hour and a half.
Surprisingly, some foreigners were also here, mostly French people. We had the pleasure to meet with Eddie Mehong, director and creator of the studio Yapiko Animation.
Eddie is a french animator who has trained under Yasuo Otsuka, a long time friend and colleague of Miyazaki from their times at TMS Animation. He then returned to France and worked as a Character Designer and animation director on French-Canadian collaborations such as Martin Mistery and Totally Spies. He goes back to Japan in the mid-2000s as a Freelance animator before getting involved in the creation of the Anjama Japan studio, a Japanese branch of the French animation studio. We'll talk more in-depth about this subject another time.
In 2012 he founded Studio Yapiko, an animation studio that tries to take the role of a gateway for French animators willing to work in the Japanese industry.
Meeting him here was totally unexpected, and more of a surprise than seeing Ghibli's legendary director. I felt the same emotion and sense of wonder as I did at Annecy's animation film festival when meeting unexpectedly and casually with a creator whose works I like and worship.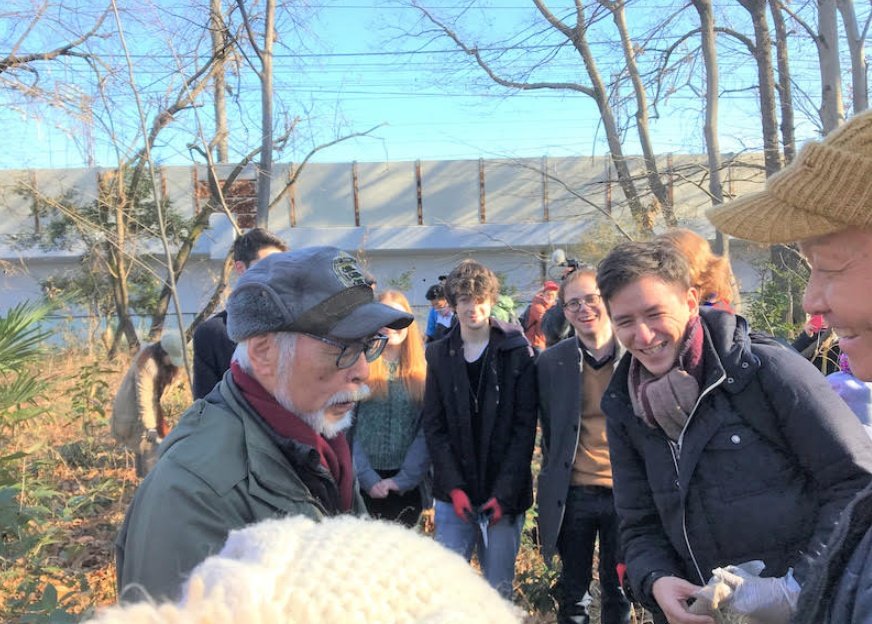 Eddie Mehong introduces us to director Miyazaki
During the event, we could see Miyazaki himself giving a hand and were able to freely talk with him. With Makoto's help, we could introduce ourselves to him, Eddie told Miyazaki he used to live in Takahata Isao's old residence for a few months. This seemed to have made the director very emotional. Later on, one of the most inspiring moments we experienced was when our little group was able to sit with him on the famous bench we cited earlier. We went to the backyards of the forest, and Miyazaki talked about nature and his affection towards this forest. He was simply speaking as a regular old man while smoking a cigarette, a bad habit he was never able to stop, he said. Far from any considerations on animation, he went on about pretty down to earth subjects, wondering about how he could have a positive influence on the environment rather than leaving his mark before leaving.
This soothing atmosphere was touching and contrasted with the end ceremony of the event, which took place just after this. Organizers asked volunteers to say a word of thanks to Miyazaki, and everyone was pushing each other to enter into the frame of the final photo. People's behavior during this last moment felt a bit like a circus freak show and wasn't pleasant to watch. This personality cult atmosphere felt pretty out of place during such an event dedicated to the environment.
Initially, I thought this day was organized by the Totoro Foundation since they seemingly were the ones who sent the invitation to my friend. Still, after a discussion with Makoto, who I met with again a month after the event, it appears I was wrong.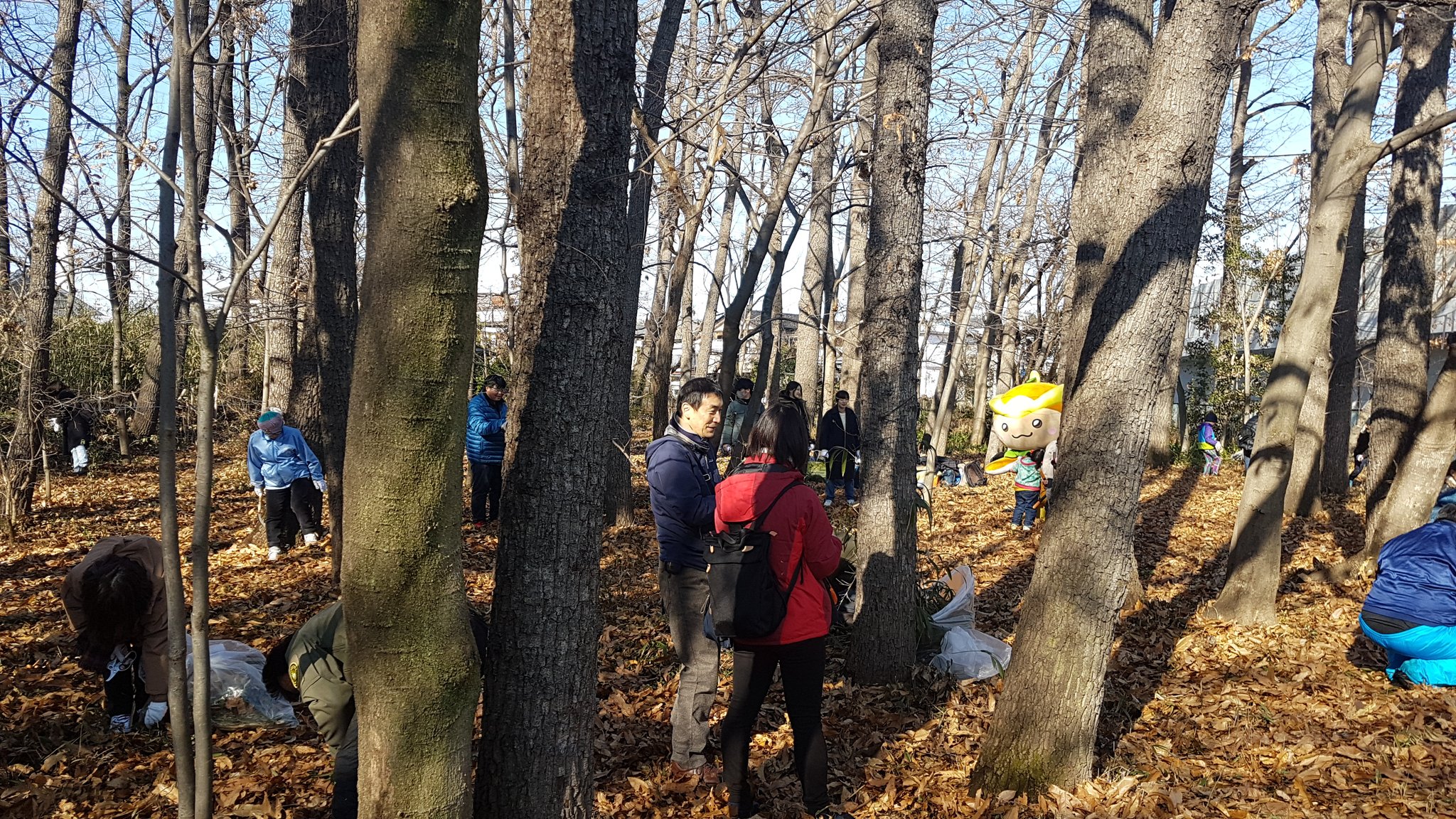 The volunteers at work cleaning up the forest
The Fuchi no Mori event is Miyazaki Hayao's independent event. It has no ties with the Totoro Foundation, which is only allowed to use Totoro's name and image with toy company Nibariki's consent. Makoto then explained to me the whole complicated story and political intrigues around the entire Foundation's situation.
While Totoro Foundation is indeed working for environmental preservation in the Sayama Hills area, owning lands such as Totoro no Mori, Midori no Mori, Kitayama Park or Tama Lake, etc. situated on the west of Fuchi no Mori, the latter is not included in their properties and has no link with Totoro Foundation.
By this event, Miyazaki mainly wants to preserve his neighborhood. Makoto explained that, beforehand, Buddhist temples wanted to build cemeteries around this area. Totoro foundation's will to protect green spaces and prevent them from doing so was the main reason why Miyazaki agreed to create the Totoro Foundation. Now, it's true that the director contributed by giving money to the Foundation at first. He's not contributing directly anymore, only his wife, Akemi, is drawing the forests' landscapes and flora that are sold in books to donate to the Foundation.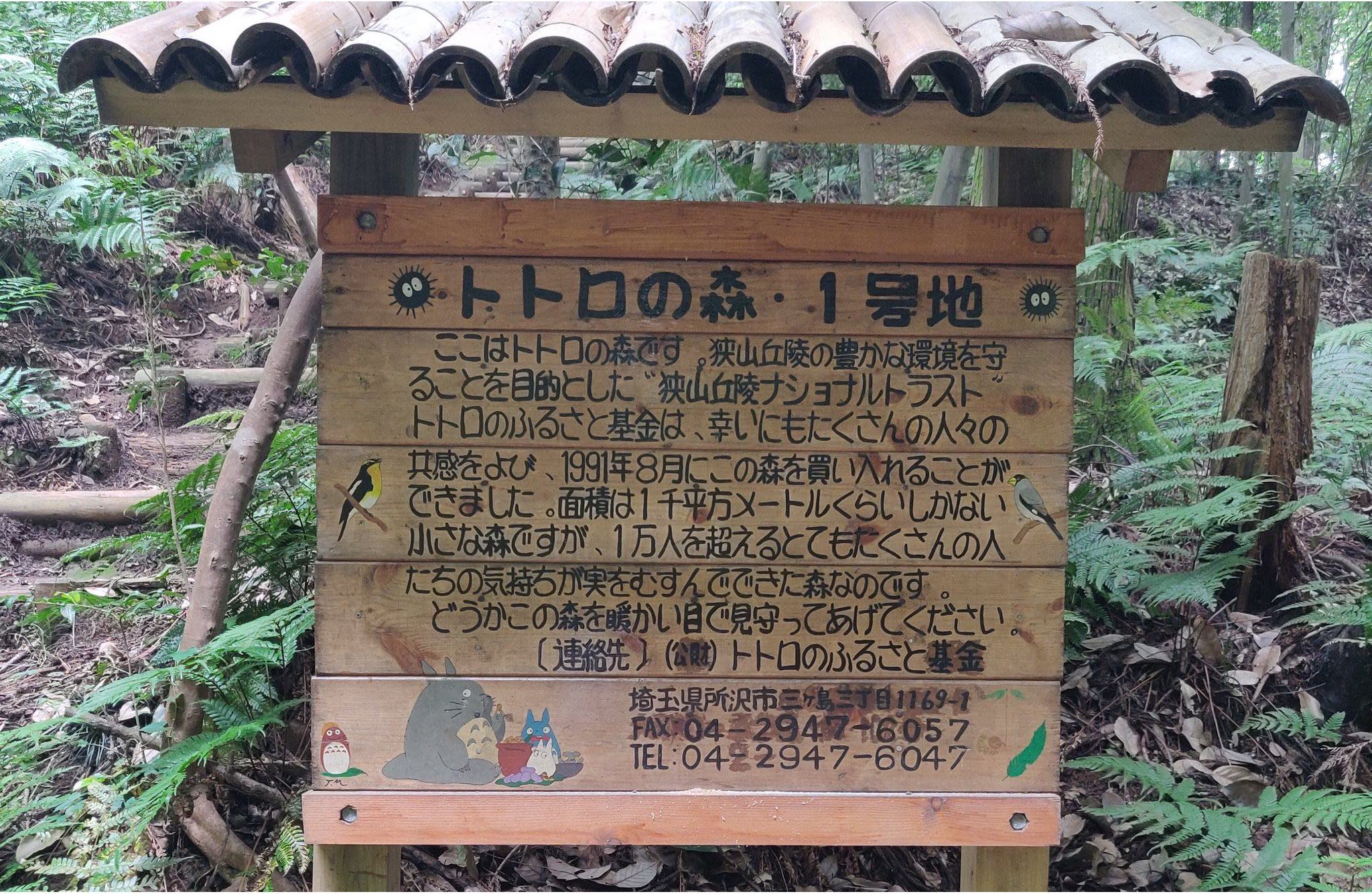 Totoro no Mori, a forest owned by the Totoro Foundation in Saitama Prefecture
He told me that recently, Kadokawa has started the 300 000 000 yen "Cool Japan Tokorozawa" project.
They want to build Sakura Town, a significant area focused on otaku culture, with warehouses and production centers, as well as movie studios for Kadokawa. To attract tourists, Tokorozawa's government is collaborating with Kadokawa and is also interested in Miyazaki's private ground. With the help of Suzuki Toshio, they want to develop a "Natural Disneyland" around this area, by expanding it towards the Totoro's foundation lands and transforming Fuchi no Mori into a touristic attraction. Like a way of commercializing nature.
Tokorozawa could further develop their link with Miyazaki's mythology by focusing on the presence of Satsuki and Mei's house from Tonari no Totoro at the Yanase folklore museum (Yanase Minzoku Shiryoukan), and even Hakkoku-san hospital, called Nanakoku-san in the movie. Likewise, Kadokawa focuses on Tokorozawa's bonds with Sword Art Online, since most of the work's characters live in the area.
On a side note, Tokorozawa can also focus on their link with aviation and connect it with Kaze Tachinu as well as Miyazaki's passion for it.
Furthermore, Tokorozawa was supposed to host the Italian teams for the 2020's Olympic Games. They could try to make use of Miyazaki's short movie he was supposed to produce for the Olympics to gather further tourists' curiosity.
Finally, and this is unrelated to Tokorozawa's politics, Miyazaki Goro currently has a Ghibli themed amusement park project going on at Nagoya.
In the end, all these schemes feel like a Cool Japan trap to me, surfing on Miyazaki Hayao's popular success to transform it into a soulless marketing product.
As we were discussing with Makoto, Miyazaki's next movie will be inspired by How do you live? (Kimitachi wa dou ikiru ka), a novel by Genzaburo Yoshino, published in 1937.
The book mainly features discussions and questionings about relations, social structures, ethics, almost like a philosophical tale or essay. By choosing to adapt this novel, Makoto thinks Miyazaki wants to create a film for future generations, not for himself. Unlike how he showed his passion for aviation in Kaze Tachinu, or Porco Rosso, which was a very personal film. Rumors say that the director and his producer are fighting over his choice. Because no fantasy elements would show up in such an adaptation, Suzuki Toshio is not satisfied with what will probably be Miyazaki Hayao's last movie.
It's interesting to see how one can learn so many details about regional politics surrounding anime, or even dichotomy between artistic creation and "Cool Japan" in such a small event not even focused on animation.
Like our content? Feel free to support us on Ko-Fi!
You might also be interested in