At this year's Annecy Festival, we were invited to attend a special panel held by the French anime streaming platform and the French animation studio La Cachette. Our most loyal readers might remember that this isn't the first time we talked about them. Studio La Cachette has been one of the most impressive animation studios, delivering stellar animation work on Genndy Tartakovsy's show Primal, so much so that they have kept working with him on Unicorn: Warriors Eternal, albeit with another animation team within the studio. The reason for that change was that Primal's team was busy with another project, the long-awaited Le Collège Noir, an adaptation of the studio's cofounder, Ulysse Malassagne, comic book. The project gathered attention as soon as the pilot was first shown in 2019 for how beautifully crafted it was – The gloomy atmosphere, the simple but impactful designs, and most and foremost, the stunning 2D animation.
As such, we were pleased to be invited to this premiere of the show and listen to its creators and producers from ADN and Toei Europe talk about the production and creative process.
The show releases today, October 31st, on the French streaming platform ADN. It is only accessible in France for now, but we expect an international release soon enough.
In the meantime, we invite you to discover more about Le Collège Noir in this report. 
Like our content? Feel free to support us on Ko-Fi!
The panel about Le Collège Noir, presented by members of animation studio La Cachette, started with the creator of the series, Ulysse Malassagne, explaining the primary ideas that first led towards the creation of the original bande dessinée (comic book) and then resulting in an animated series adaptation. Initially, he wanted to show his youth with his friends in the Cantal, a region of France's countryside.
But the lack of diversity in these kinds of places was a problem, as the story was about five white boys. So he added other of his friends into the mix, and that became a three-volume comic book series.
Already working at La Cachette, Malassagne said he was always thinking about a potential adaptation into animation, inspired by movies that scared him as a kid. Realizing that there were no scary movies aimed at pre-teenagers managing to talk about darker and deeper themes, Malassagne decided to play with the contrast of having cute little characters inspired by cartoons while talking about growing up, solitude, death, and so on. 
To continue with the idea of the series taking place in France's countryside, he decided to include old French folk tales and legends that are kind of abandoned to give a second life to these tropes. 
The format of the comic books being made of concise stories would make it difficult to make a movie out of it, so the idea of a series came in. The opportunity to make longer episodes to develop the characters resulted in the current format of six 13-minute episodes, although Malassagne's colleague Oussama Bouacheria added that, before they met with the production company ADN, they originally planned the episodes to be 26 minutes long.
A representative from ADN explained the reason for that. The goal is to promote the series by dividing it into two seasons to create another occasion to talk about it later on.
Then Malassagne confirmed that only some details were censored with the adaptation, and the studio is grateful for the freedom they had during the production. They really could make the series like they wanted it to be.
Malassagne animated the short pilot entirely by himself, with the help of very few background artists, to create the vision that would sell the series. After presenting it at Cartoon Forum, a big platform got interested in financing the series. They went a lot in Cantal to explore the environment. Malassagne's wish was to be very close to reality with the backgrounds, which is not the case in the comic books. They took a lot of reference pictures of the places, the churches, and the architecture that you typically find in this region. As in Japanese animation, where you can see many real places in the background, the approach was to be close to realism. As Malassagne didn't feel able to write the whole story by himself, he called the co-writer of the series, Magali Pouzol, who helped with the creation of stories in this new format. The middle school in the series is drawn by Arnaud Tribout, who did a lot of research to make it look like a typical school from the early 2000s, the time when Malassagne was himself in middle school. Character designers tried new approaches for the characters, even if they didn't keep all the ideas at the end. Malassagne described how inspiring to craft the new looks of the characters is.
The visual development team is small: Bill Otomo, Chloé Nicolay, and Sophie Li worked on character designs. Arnaud Tribout did the backgrounds, and Kévin Roualland was in charge of the colors, but he made some backgrounds, too, because Arnaud Tribout was preoccupied with architecture and grounding places in reality, creating a map. 
Oussama Bouacheria came back on the funding of the series. The big platform did leave the project, so they had to find new ways of funding it because they believed in the potential of this world. And one day, two people from a small French platform approached them. 
Answering the speaker's question about the doubts they had when the platform left, Bouacheria clarified that they are always afraid about the future and that it was the first time it happened, but also that it was probably for the better. 
The representative from ADN was asked why they were interested in Le Collège Noir. He answered that ADN, which is a platform specialized in anime, had to evolve from being a broadcaster to becoming a producer. After seeing an impressive trailer by La Cachette called Mehdi: Avis de Passage, he sent an email to Bouacheria without really expecting an answer. But it happened, so they met in 2021 and exchanged their visions on animation. Japanese animation inspired the way they wanted to work together. Bouacheria said how surprised he was at first by the mail and thought Le Collège Noir was the project that should get the opportunity. ADN's approach seduced him because they shared the same philosophy and wanted to push forward French animation. He met with Julien Lemoine and Kim-Ngan Damasse. 
Kim-Ngan Damasse confirmed that they let La Cachette have total artistic freedom, the only request being the 13-minute format. It also allowed La Cachette not to have to think about money and funding at all. About continuing to be producers for French studios, Damasse pointed out that they also worked with Ankama studio on Lance Dur and are working with Studio Bobbypills. Damasse announced for the first time that they're working with Bobbypills on a new project, an animated series adapting the French video game Dead Cells, to be released in early 2024. They are also working on the anime adaptation of the French manga Dreamland and much more that will be released in the future. 
Regarding how, except Ankama, French studios come from short movies and how ADN wants to push it forward, Julien Lemoine said there is a shortcoming for a regular appointment in French animation for young adults, and this is something they want to change. So, one year ago, they called Toei Animation thanks to Olfa Sakakibara-Berhouma, a friend of Oussama Bouacheria from the time he worked at Studio Satelight, who is a production assistant at Toei Animation. During the Annecy Festival, they met with Toei Animation producer Yosuke Asama and presented him Le Collège Noir to convince Toei to join the project. Yosuke Asama confirmed how impressed he was when he discovered La Cachette, even though they said they were a new studio. They have very talented artists, have already made a lot of Japanese-like animation, and also have excellent communication skills. That's why he decided to join. 
Bouacheria explained how dream-like the situation is because Toei can bring all their experience in producing, merchandising, etc., and they all grew up with the Toei Animation series.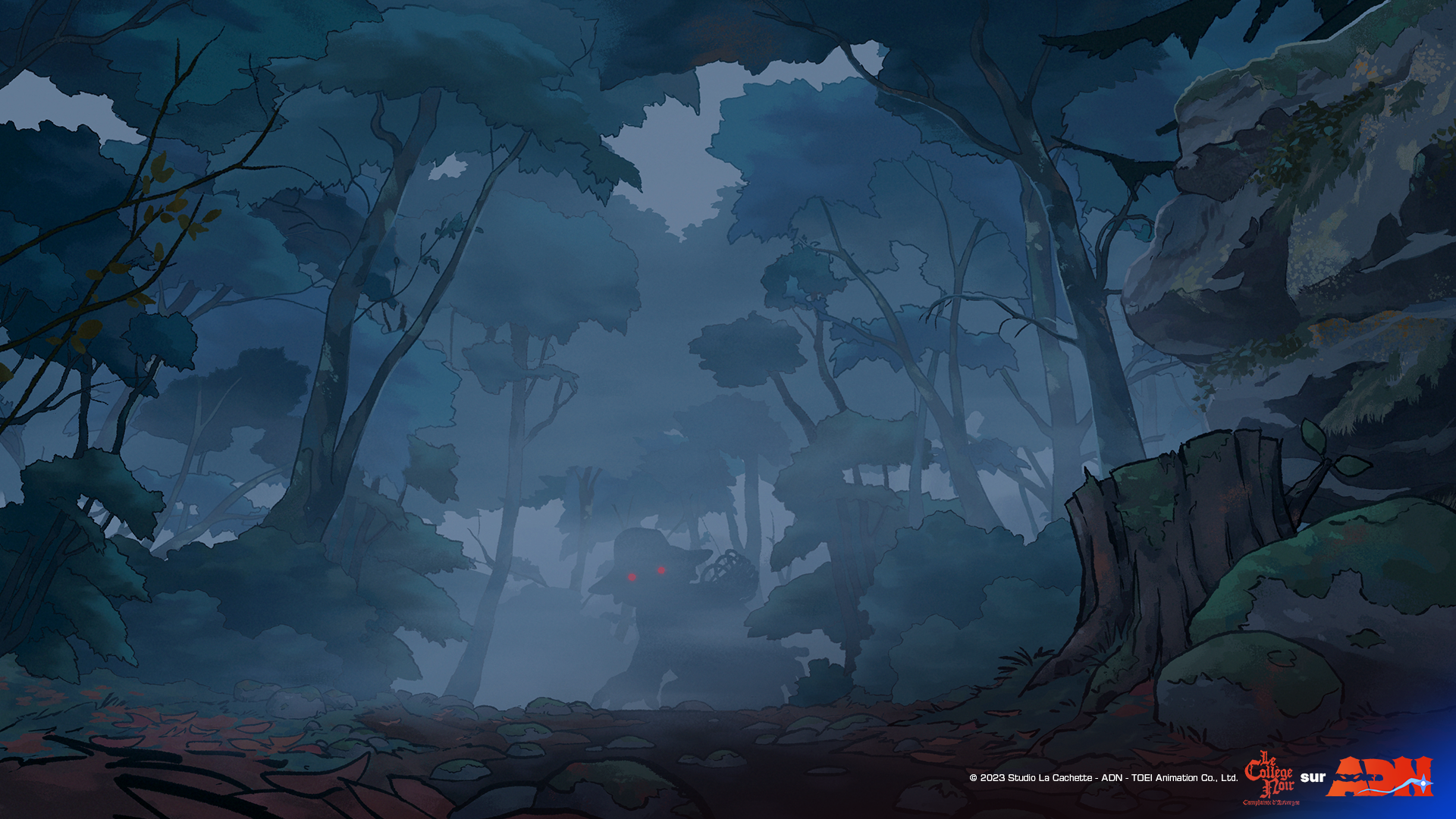 Regarding censorship on American platforms, Malassagne said that Japanese animation is a step higher when it comes to maturity, being strongly related to adults. The fact that Cantal, the region where he grew up, is a volcanic area makes him very connected with Japanese landscapes and background in animation, with all the mountains and the usage of folklore. Olfa Sakakibara-Berhouma said that after ten years in Paris, Toei Animation Europe wants to start working with Europe instead of just managing Japanese works for the European market. 
Nowadays, Japanese studios know that Europeans all watched Japanese animation during childhood, so they want to see what they can do together. Showing on the screen their process for animation, they are inspired by the Japanese pipeline and try to stay traditional. They first do the backgrounds, from the lines to colors, to create the layout. The animators then do everything, from rough to clean. There are two teams of animators, the first one at La Cachette, and the second one is helping from the south of France. The drawings are made on TVPaint, and there's no use of CG. From then, they do color animation and final compositing. 
Talking about voices, Malassagne described how much emphasis he gave to voices and dialogues. He really wanted to make it sound like the way he spoke when he was 12 or 13 years old. A challenging task was to find an actress with a witch-like voice who could speak Occitan, a regional language spoken in Auvergne and Cantal. He was able to find someone perfectly fitting, an old parents' friend called Thérèse Canet, who is a storyteller who comes from this region. 
All voice actors and actresses are adults, cast by Piste Rouge, with whom they also work for sound design. The music is planned to combine old RPG music and folklorish instruments. The opening of the series is going to be a French song written by Didier François and Gabriel Yacoub. 
After showing the first episodes, they started talking about their influences. There is a clear inspiration taken from Japanese animation, like Crayon Shin-Chan, and also cited Shigeyasu Yamauchi's Digimon Adventure 02 movies as a vibe they wanted to aim for. To us, it felt like a French version of Gegege no Kitaro!
The story is a fusion of the first and third volumes of comic books to create one big story arc. The basic plot will be slightly the same, with a friend disappearing, a witch's curse, and the adventure to get rid of it. There will be some changes, like more character development, and instead of little stories, it will be one big story.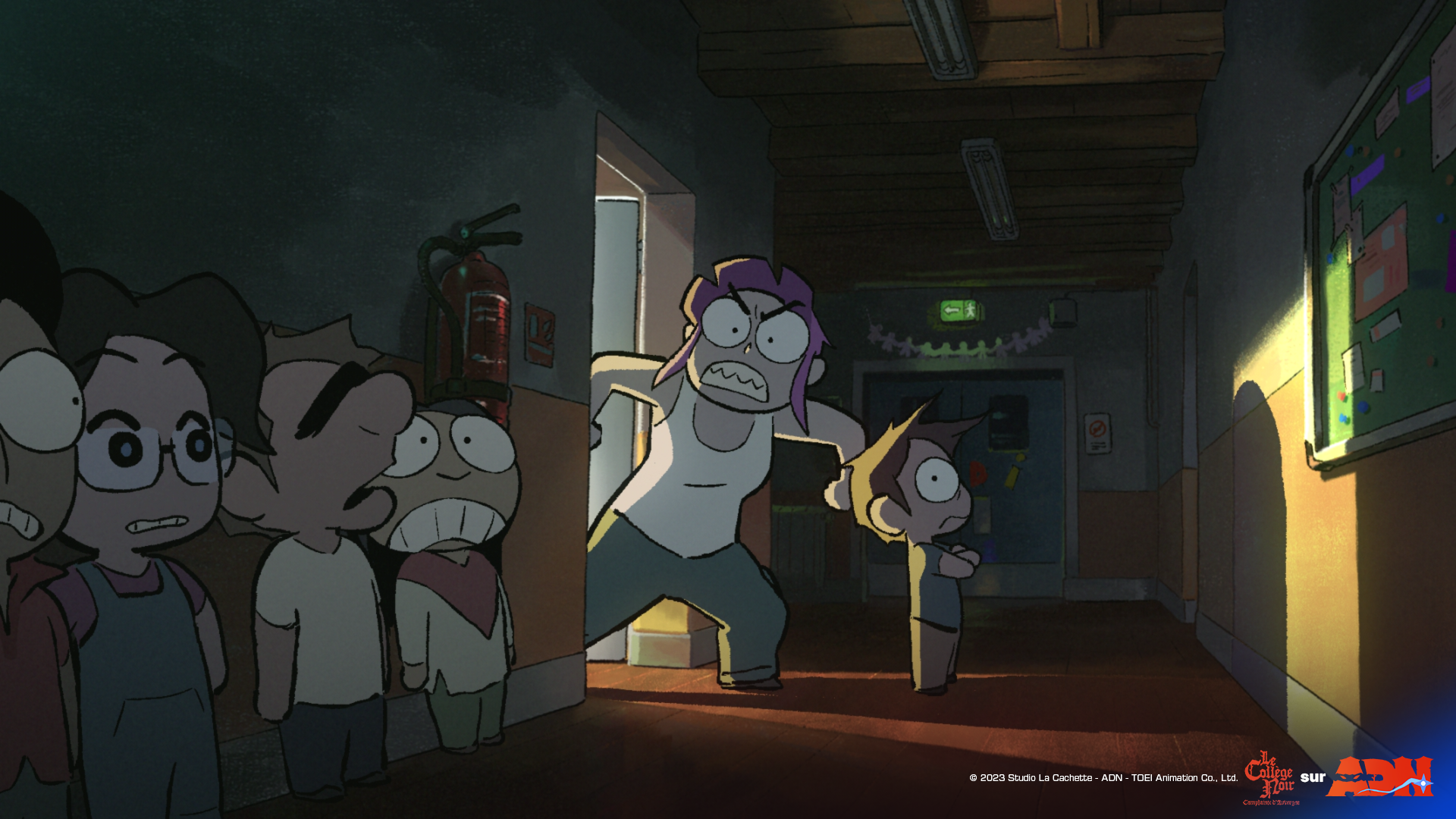 The audience then had the opportunity to ask a few questions.
About the series getting a video release, Malassagne said that it's too soon to be said for the moment. It's planned to be a series that you follow each week or that you binge; you can't catch up on a random episode and enjoy it at its fullest. It will be one story in 2 seasons, so 12 episodes. 
Then came a question about what changes they made and what not to change. Malassagne answered first that the character he absolutely wanted to keep was Lena, the kids' caretaker. She even gains more importance than in the comic books. Then, they had to choose what monsters they should keep for the story and what characters to develop. He worked hard with Magali Pouzol, who helped to select those things. The hardest thing is to adapt the story into another format. To build a 13-minute episode is entirely different than to make a 5-page story. 
Ulysse Malassagne went back to talk about the meanings he wanted to breathe in Le Collège Noir. Since, at the start, the comic books were kind of improvised, with this 5-page episodic format and every month thinking about a new monster, a new adventure, this time he thought about a story from the start to the end. So, for the series, he could focus more on themes like growing from innocence to the curse of becoming an adult. From that, the choices of monsters or character development were designed to carry the subject of the series and to make elements of the story metaphors of its themes. 
In regards to balancing lightheartedness and jokes on one side and dark, spooky moments on the other, Malassagne answered that the rule he followed was to have characters make goofy faces during terrifying fights against monsters. As kids, they obviously act in a certain way. It was all about contrast and his feelings. He also said that it is tough to make scary things in animation, especially with cute characters. 
Then came a long question about Malassagne's opinion on animation course graduates and the relation between comic books and animation students: the struggle to sell projects, making them in comic books instead of animation, as some students at GOBELINS do.
He answered that being a comic book artist was his first dream. So, it wasn't a dilemma. But he also affirmed that it's way easier and cheaper to make a comic book than to make animation. So, if it's too complicated for a project to become animation, try to make a comic book first. The process of building it, such as the storyboarding, is close to doing animation. They are two closely tied mediums.
The final question was about the human and time resources to make an episode, as the one presented before. Ulysse Malassagne said that it was hard to say for sure because they make all episodes in parallel. To make six episodes of 13 minutes, the team is comprised of around 35 people; they have 15 animators, 6 or 7 background artists, plus a few supervisors, so about 30 to 50 people worked on the show.
The speaker ultimately asked if it was going to be like Gravity Falls, a two-season series and it's over, or if it will continue for many more seasons. Malassagne concluded by saying that if they want and if they can, they have some options to continue the story after season 2. Subscribing to ADN might help with them getting to do more seasons.
Written in cooperation with Emilia Hoarfrost.
Like our content? Feel free to support us on Ko-Fi!
You might also be interested in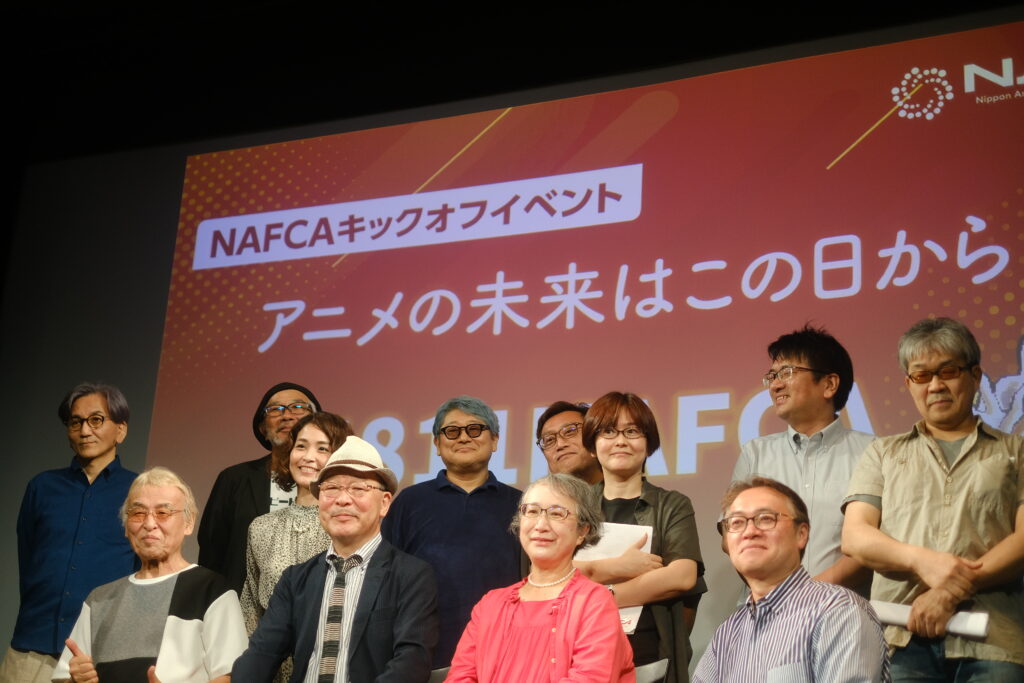 Building anime's future – NAFCA Kick-off Event
Earlier this year, we have seen the rise of a new organization set to defend the interests of people working in the animation industry, the Nippon Anime & Film Culture Association, or NAFCA. The association has laid out a roadmap of what it wants to achieve and...