In October 1998, a small team from Sunrise's Studio 2 led by Masahiko Minami decided to quit the studio so they could keep making works together after having created the cult classic Cowboy Bebop. That was the birth of Studio Bones, an animation studio that would get recognized for their ambitious original anime as well as their stunning adaptations. To celebrate Studio Bones's 25th anniversary, a quarter century of making groundbreaking anime, we were honored to sit down with the studio's co-founder and president, Masahiko Minami, for an exclusive interview reflecting on the studio's history and core principles.
This article would not have been possible without the help of our patrons! If you like what you read, please support us on Ko-Fi!
"We wanted a place to make the kind of anime such a system would never allow"
Let's start with the name "Bones". Where did it come from?
Masahiko Minami: Well, there's sort of a "let's all be friends and make anime together" feeling to this, which relates to that song from the Shôwa period called Love Me to the Bone. Also, we were a small team of eight people, kind of "barebones", so to speak. And after that, we'd have to try our best to make the meat to cover them.
And yet, with only eight people, you handled pretty big productions like the Escaflowne and Cowboy Bebop movies. How was that possible?
Masahiko Minami: That's because the actual work was done in Sunrise for these two films. They gave us the order, so the producer and the main staff came from our team while they provided people like production assistants and line producers. We went on like this for two or three years, I think. In the meantime, we produced Clockwork Fighters Hiwou's War, CLAMP's Angelic Layer… We only had one production line at the time and went up to two at the time of RahXephon.
Was Bones originally a subsidiary of Sunrise?
Masahiko Minami: No, it wasn't like that.
Sunrise doesn't own Bones stock at all, then?
Masahiko Minami: A little at the beginning, they were very supportive. But I didn't want to be too indebted to them.
Why did you decide to leave Sunrise in the first place?
Masahiko Minami: It's not the only reason, but mainly because a bunch of us – Hiroshi Ôsaka, Toshihiro Kawamoto, Kazuki Akane, and Shin'ichirô Watanabe – wanted to make anime together as a team, and Sunrise was too big a structure for this. Above us were the directors, and above them the sponsors… We wanted a place to make the kind of anime such a system would never allow. When we did the test screening of the very first episode of Cowboy Bebop at Sunrise, everyone went nuts! I got a lot of "What the hell are you making here?!" and "If you're gonna make something like that, might as well make some others!". Well, I took that chance.
Did it also have something to do with TV Tokyo not airing Bebop up to the end?
Masahiko Minami: I mean… there wasn't much we could do about that. Especially at the time, those kinds of boundaries weren't clearly established, and after talking to TV Tokyo, we decided to stop the broadcast. It was a one-cours slot anyway. It's just that they had this open slot, so they asked us if we wanted to fill in, and we took the opportunity. Starting with what is now episode 2, you had 2-3, then skip 4-5-6, and then 7 to 15 and 18, but later we were able to reorganize it and air it again. So it wasn't an "incident". The anime that was supposed to air in April just wasn't ready in time, so we filled the slot. But then, the one that was starting in July was really a children's anime, so under these circumstances, you can understand why we pulled Bebop off the air.
"To our core fans, we're still Space Dandy's Bones"
Speaking of, why wasn't Shinichirô Watanabe a founding member of Bones?
Masahiko Minami: Because I thought if we started working with him, the company would go in the red! (laughs) You know, he's someone who thrives on challenge, so of course, his works are going to be challenging. But when I first created this studio, I wasn't expecting things to play out so well, and I was afraid working with Director Watanabe would bring it to its early end! So I guess after Bebop ended and Bones took off, we just parted ways for a little while, professionally speaking. But we'd still get a drink together every now and then to catch up. During that time, he made various works at various studios, like Samurai Champloo at Manglobe. As for Bones, well, in ten years, we produced some real hits that brought stability to the company, so I thought that it was finally time to make something with Watanabe. And that something became Space Dandy!
In its 25 years of existence, would you say that Bones' image changed?
Masahiko Minami: I don't think it changed that much. We make an original anime every one or two years, and then there are also the adaptations. Of course, they're always the big hits, but I wouldn't necessarily say they're more popular… I mean, a lot of people would say we're "My Hero Academia's Bones", but to our core fans, we're still "Space Dandy's Bones", "Carole & Tuesday's Bones", or "A.I.C.O's Bones", so you know… 
It's been a while since you've done mecha, right?
Masahiko Minami: Well, we've got Metallic Rouge coming, but I guess it's closer to the "transforming hero" genre since the armors are human-sized. Xam'd: Lost Memories also involved such transformations. So there's more of Kamen Rider and sentai in those.
How many employees are there at Bones now?
Masahiko Minami: About a hundred. More than half are in production; the rest are compositing and 3DCG staff, plus the PR department.
Bones' defining trait is really the high-quality animation. Do you have a secret ingredient for that?
Masahiko Minami: Hum… I wonder! (laughs) What happened was, at first, Bones was only this small team I had worked with at Sunrise, and then new staff came in as we started making more things. Like the Cowboy Bebop movie had a lot of action scenes, so action animators joined, and these very animators who admired Kawamoto or Yoshiyuki Itô became the next generation of Bones. Because they got involved in this work, they could make the following ones, and so on.
Then, who would you say are the "big four" of Bones?
Masahiko Minami: The "big four", huh… Kawamoto, of course. Also Takahiro Komori. Those two are historical employees here. Then, of course, I'd have to go with Yutaka Nakamura and definitely Yoshiyuki Itô. That being said, you can't ignore Tsunenori Saitô and Kôichi Horikawa. As a studio A animation director, Horikawa has been essential in supporting us behind the scenes.
At the time, animators were people who could draw everything, you know? Today, it's very genre-restricted: some are good at robots, some at action, some at character animation… But back then, everybody could draw characters, robots, dogs, or plants indiscriminately.
Although horses are always a pain, right?
Masahiko Minami: Always! Wolf's Rain was a real challenge because of that: the staff had a hard time drawing all those wolves. Today, we probably couldn't even make it.
Even with Kawamoto on board?
Masahiko Minami: Well, he can't do everything himself, right? Twenty years ago, it wasn't all that hard to find such animators, but nowadays, animals are often CG-made.
That's also true of robots, isn't it?
Masahiko Minami: I think it's fine for robots. They're really easier to make in CG because they're so stiff and jagged.
"I'd say if there were one thing Bones was missing, it'd be him"
On a whole other subject, Bones seems to be really good at planning. What is your method for that?
Masahiko Minami: Basically, always follow the schedule. It's our philosophy. Because obviously, there's more to anime than simply animation and animators. For a work to be complete, you also have to draw the backgrounds, add CG if needed, put it all together through compositing… Time is very limited, so if you start getting late on the schedule, it will inevitably become a burden to all the staff that come after you, and the quality will drop accordingly. In the end, of course, getting the best visuals possible depends on the ability of the animators and how much effort they put in, but also on how we handle photography and other parts of the process. It's only by being aware of this that we can make truly satisfying work.
Bones is split into five studios, right? A, B, C, D, and E. Could you explain a bit about how this system works and what changes between the different studios?
Masahiko Minami: Basically, each producer is in charge of their own studio. That's Naoki Amano at Studio A, Yoshihiro Ôyabu at Studio C, Mari Suzuki at Studio D, and right now at Studio E, the position is vacant. Now, we do take into consideration what each producer wants to do at their studio, but the overall course of action is decided by the five of them together as a group.
Does the staff move from one studio to another?
Masahiko Minami: Yeah, that happens. There are even cases of animators going by all of them, doing work here and there. But mostly, they'll stick with a producer and become part of their main staff.
Until recently, Studio E was focusing on the Eureka Seven movies, but now that this is over, what are they going to work on?
Masahiko Minami: Right now they're on Metallic Rouge. Working on Eureka, people like Yasushi Muraki, who specialized in drawing robots and mechanical action, became central to studio E, to the point that it is now its defining trait.
It's said that Mr. Kazuhiko Shimamoto took part in Eureka's original plan, but is it true?
Masahiko Minami: Yes, I first asked him for advice when we were still drafting the project. Usually, when creating an original work, the director and writers decide on the direction to take, like here, they wanted an SF feature. But as it turned out, Shimamoto is a fantastic storyteller, and his presence really brought new blood to the project. Being a mangaka, he has a different outlook on how to build a narrative, and so he ended up taking part in this.
And you appeared in Aoi Honô!
Masahiko Minami: Oh, right, because he was my classmate…
What did you think about it?
Masahiko Minami: Well… a lot of things! (laughs) Of course, it's a manga, so most of it is fiction… except we actually appear under our real names. So the problem is readers are going to think that Masahiko Minami said this, or Hideaki Anno did that, you know! (laughs)
What's an example of something shown in the manga that didn't actually happen?
Masahiko Minami: I haven't been reading it lately, but there's one time I didn't recognize something my character was saying. I was pretty sure it was someone else, actually! When I talked to Shimamoto, he explained that he just thought it'd be funnier to make me say it, so that's why.
One of the studio's masterpieces, Mob Psycho 100, is finally over. So we'd like to hear a word from you. Is there any specific story you want to share about the production?
Masahiko Minami: I guess I'm just happy that we could gather so many talented people on the show. We've got staff that worked on all three seasons, and on the contrary, people who just joined for season 3. I think it's this diversity that made Mob so appealing.
Now, if that's okay with you, could you share some memories of Hiroshi Ôsaka?
Masahiko Minami: Well, I first worked with him about 3 or 4 years after entering Sunrise, and among the animators, he was the person who I felt the closest to, be it for his drawings or simply his mindset. It's been more than ten years since he passed away, and you know… sometimes I still find myself thinking "Ah, if only Ôsaka were here…". He was sort of… I couldn't say my right arm, but to this day I still notice his absence. I'd say if there were one thing Bones was missing, it'd be him. That's the kind of person he was.
Finally, do you have any particular project for Studio Bones's 25th anniversary?
Masahiko Minami: In a way, Metallic Rouge is our 25th anniversary celebration. It's an original anime with mecha action, which is what we do best, isn't it?
We wish to thank Mr. Masahiko Minami heartfully for granting us some of his time.
Interview by Matteo Watzky and Ludovic Joyet
Transcription by Lilo Chiche and Comrade Karin
Translation by Lilo Chiche
This article would not have been possible without the help of our patrons! If you like what you read, please support us on Ko-Fi!
You might also be interested in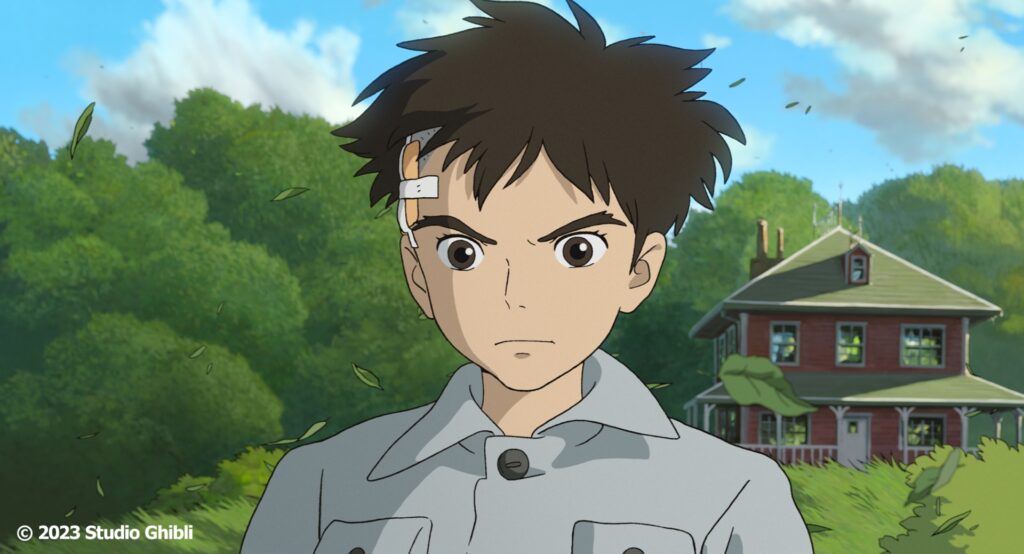 Akihiko Yamashita's The Boy and the Heron – Long Interview
If any animator could be said to have defined the look of Studio Ghibli films in the last 20 years, it would, without a doubt, be Akihiko Yamashita. First only a key animator on Spirited Away in 2001, he was immediately promoted to animation direction on Howl's...