Masaaki Yuasa's work has been formative to my development as an anime fan.  So many of the projects he has put his stamp on have revealed to me what animation is truly capable of and made me realise how artistically diverse the landscape really was.  INU-OH took me back to the time when I first discovered his work in addition to the other animation staff that surround them.  Prior to watching it though, I wondered who exactly this film was for besides fans of the staff and cast or Japanese history enthusiasts – after all, it is an adaptation of a novel (Tales of the Heike: INU-OH translated by Hideo Furukawa) which has roots that are several centuries old.  However, after viewing it I believe this film (and the material it adapts) could not be more relevant to contemporary audiences and can resonate particularly well with the artists by addressing the issues they still contend with, alongside their importance as storytellers for culture as a whole.
Viewers of Naoko Yamada's adaptation of Heike Monogatari (The Heike Story) will get the most out of INU-OH's exploration of what being a storyteller entails.  Biwa's difficult journey to document the inevitable fall of the Heike clan without interfering with their fate goes hand-in-hand with Tomona's search for a method of playing the biwa that aligns best with his inner identity; The Heike Story and INU-OH present storytelling as challenging, both in a practical sense but also in an emotional one too.  Telling a story with one's art is presented as a cathartic, personal endeavour that holds the potential to heal oneself from within.  This only works because of the multifaceted perspective they provide.  Art is an outlet for inner exploration and is not exclusively for putting on outward-facing performances.  Furthermore, the latter often requires the former to flourish, as the leads in each respective piece show.  INU-OH continues on with what made Heike Monogatari's adaptation a compelling human drama – by demonstrating how phenomenal stories spawn from experience.  
Similarly to how one can interpret The Heike Story as a piece about its director coming to terms with grief, the argument can be made that INU-OH is an analogy about its own director searching for their artistic identity (and finally discovering it).  Although I do not wish to dismiss this reading entirely, narrowing its meaning down to Yuasa's creative journey undermines how inclusive the film truly is.  INU-OH speaks to transgender and queer creatives in addition to anyone who does not particularly align with the so-called social norms of identity.  It would not be quite right to pin down a work that attempts to reach out to as many people as possible, including marginalised communities, in an unabashed fashion much like a concert.
INU-OH's commitment to the notion that one's artistic identity, and overall human identity, is fluid can be recognised in its visual approach as well.  Yuasa's ability to embrace the asynchronous styles of the artists he works with has led to some incredibly memorable moments within many of the anime he has headed, be it Michio Mihara's solo-animated performance on Kemonozume's penultimate episode or Shin'ya Ohira's work on Ping Pong the Animation's opening credit sequence.  INU-OH follows suit by harnessing the varying approaches of animation directors such as Yoshimichi Kameda (Chief Animation Director) (Mob Psycho 100, Fullmetal Alchemist: Brotherhood), Nobutake Ito (Kaiba, Giovanni's Island), Yasuhiro Nakura (Angel's Egg, Genji Monogatari) and many others.  Ultimately, the film is better for it as it allows it to resonate with the fluidity of Inu-Oh and Tomona's identities with relative ease.  As the two leads liberate themselves from performing in a single style and defy the supposed boundaries of gender identity, the multiple shifts in the film's animation direction display their evolution in real-time.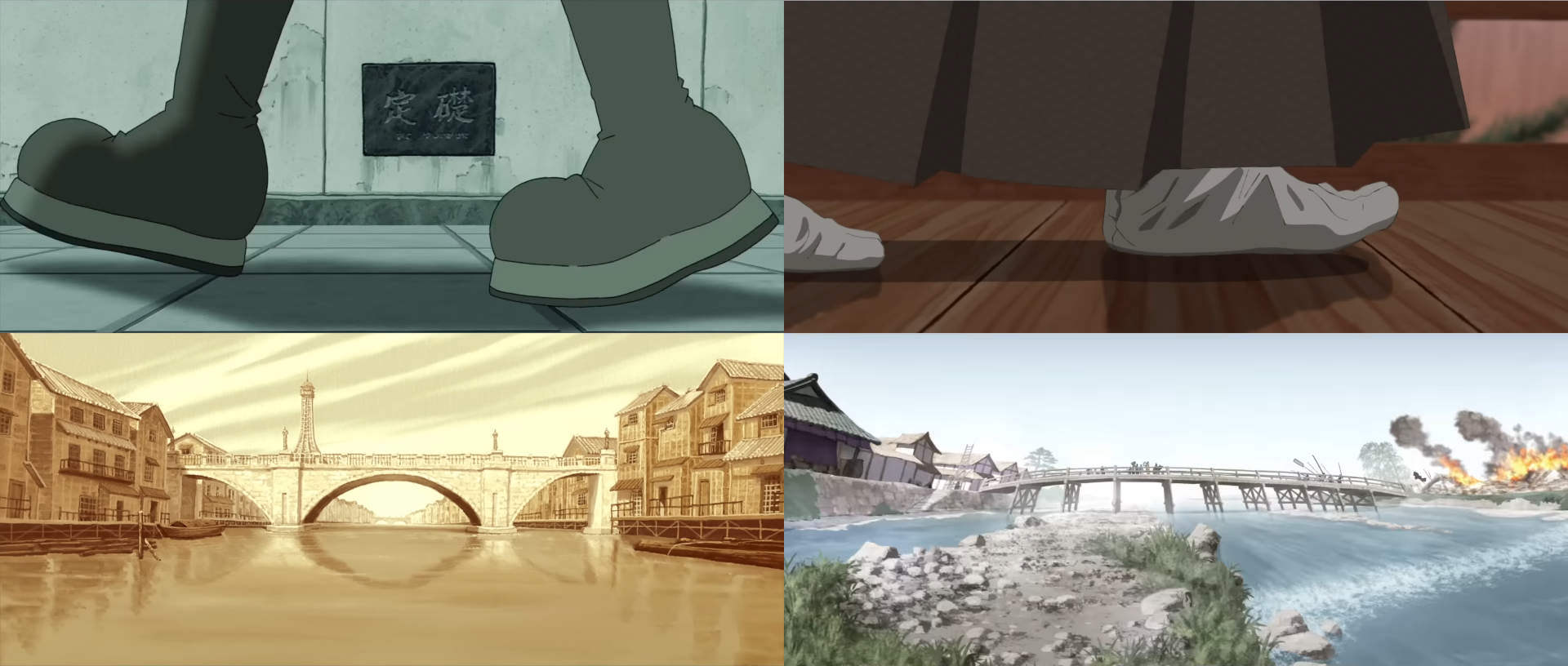 Those who have followed Yuasa's career over the years may brand INU-OH as a 'return to form' or a callback to his older films but if anything it is in line with what the director has done continuously – experiment and evolve with time.  The film brings together some of the best of their visual techniques and sensibilities with fun ideas that have not been used on this scale before in any of his previous work.  Admittedly his work has changed significantly over the years but to me, the creative philosophy that underpins them remains the same and INU-OH is no exception.
With that being said, the film evidences that Yuasa is equally capable of working with strong elements used in their previous work.  Being the experimentalist they are, the director is not afraid to upcycle their old ideas to produce fresh sequences that are tailored to the story at hand.  Like the opening scene of Mind Game and The Tatami Galaxy, INU-OH begins by taking the viewer on a whistle-stop tour through the arguably necessary context they need to proceed.  As overwhelming as it can be, especially for the uninitiated, it works extremely well in the context of this latest film.  By dragging the audience all the way back to the fourteenth century from the present day at breakneck speed, both eras become connected and more importantly, it implies that the ideas of old storytellers are just as insightful as the ones that can be picked up from today's art landscape.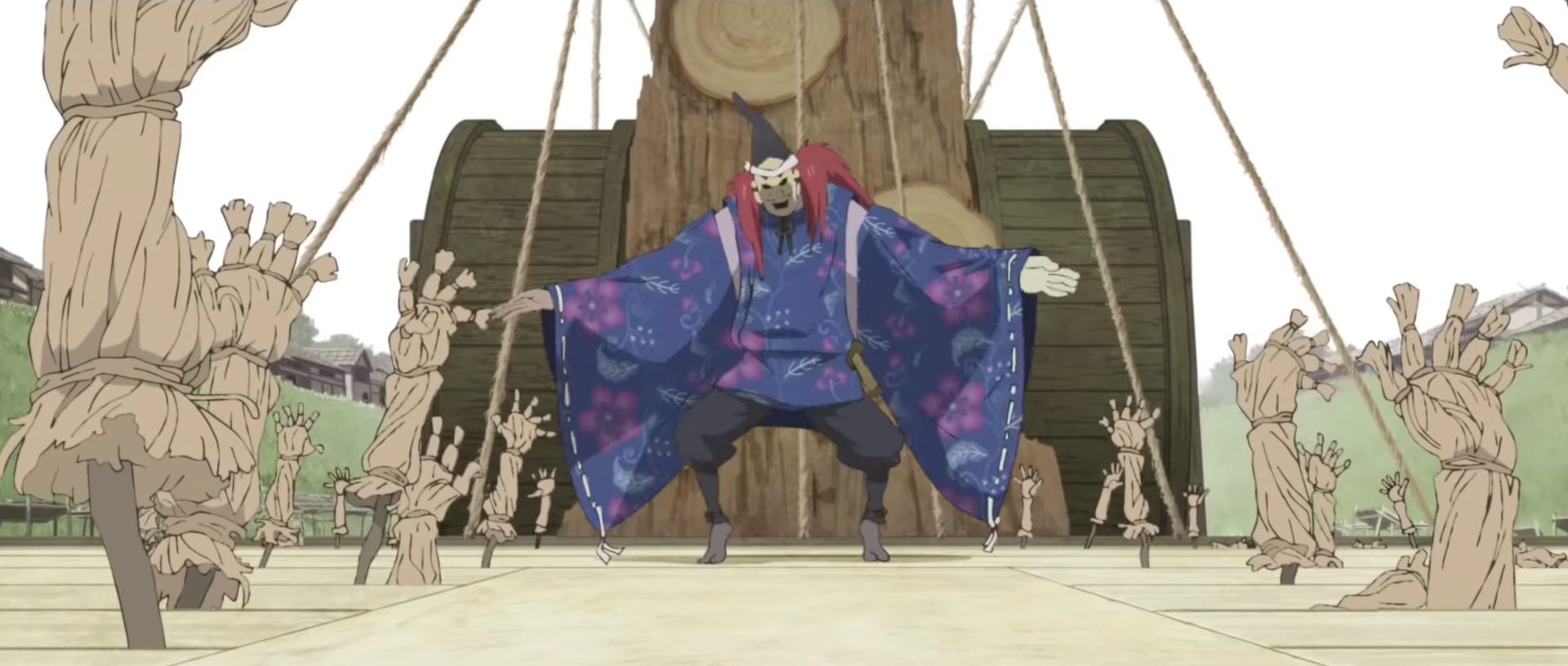 Despite the fact that the film celebrates the beauty of creativity, its optimism is balanced out by the hard-hitting reality of producing art.  INU-OH's performance scenes are enjoyable but some of them are also quite long, repetitive and unpolished – but that is how they should be.  As inspiring as the creative process is made out to be, it is simultaneously presented as a never-ending grind to sustain an audience.  As lovely as it could have been to put creatives at ease, sanding the rough edges that come with dedicating oneself to a craft would make it a disingenuous tale with a much weaker message.  After watching the film for the first time, my first instinct was to push back against its lengthy performances but after a bit of reflection, I came to realise that this was the very root of its authentic tone.  INU-OH is a slightly craggy journey that has less-than-ideal pacing at points and an abrupt conclusion to its success story but it would be a lie to say that this was not somewhat accurate to the experience of being a creative.
Perhaps the most challenging dilemma for almost any storyteller can be found at the very end of the film.  Without unpacking all the details (for those still waiting to see it in cinemas), both leads are confronted with the decision of either adapting to the current art landscape they are based in or continuing to defy its norms (at a hefty price).  During a time when the success of art is steered by advanced algorithms that have their own in-built preferences or industries are buying into risk-averse projects, a reminder that this dilemma still exists could not come at a better time.  INU-OH does not necessarily provide viewers with a straight answer but opens the door for artists to evaluate their reality and choose what works for them.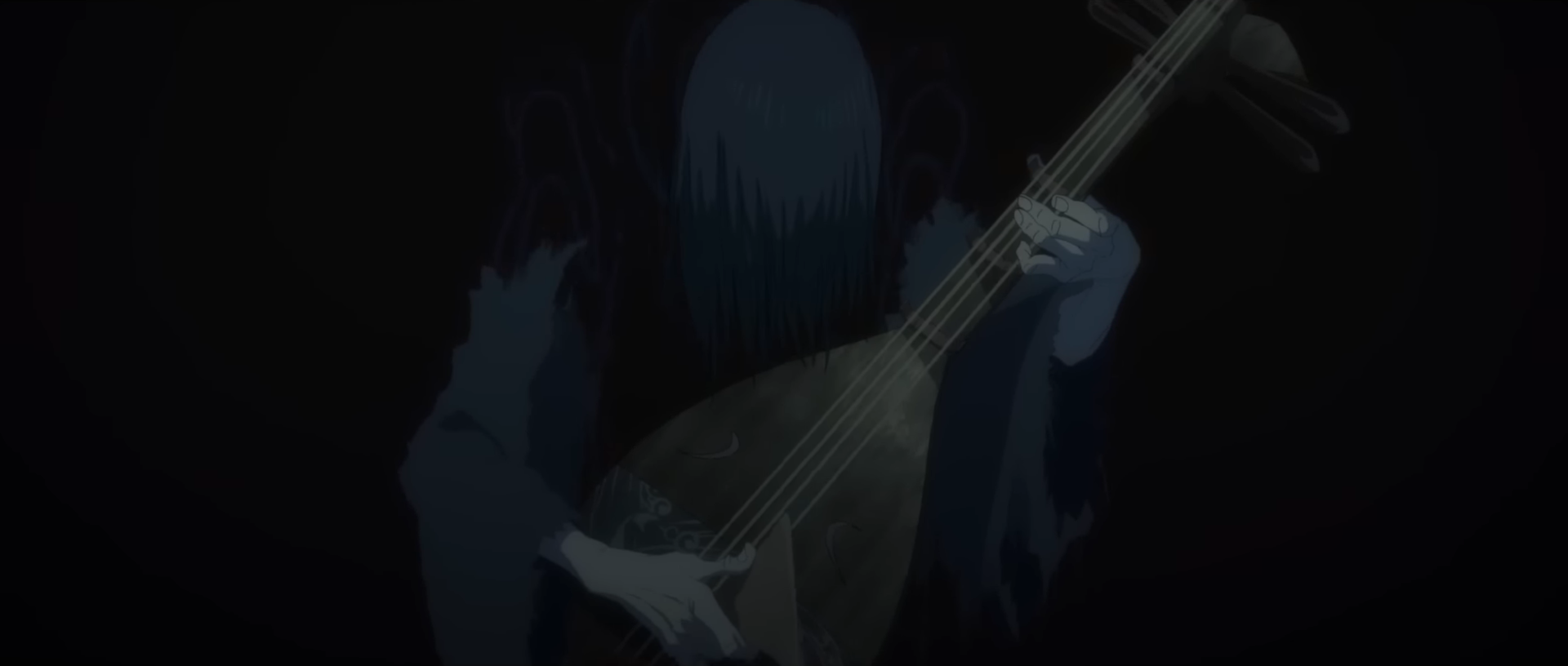 Although I have made the case that INU-OH is not entirely optimistic, I still think it is important to view the negative and positive aspects together, not separately.  Once again, I do not think that any of this is particularly out of character for an anime led by Yuasa.  Perhaps the most touching thing that threads many of his pieces (original anime and adaptations) together is the idea that misfortune often comes paired with opportunities or even chances to grow.  The complicated romance between Yuka and Tomohiko in Kemonozume[1]or Wenge Kong's story arc in Ping Pong the Animation[2]come to mind when I think about this and INU-OH fits snugly in this canon too.  Tomona's inability to connect with the conservative approach imposed on his fellow biwa players is followed by a life-changing journey that allows them to discover their true identity as both an artist and a person.  The same can be said for Inu-Oh, who is able to propel themselves to stardom despite being ostracised by most of those around him, including his father.  At the end of the day, what makes being a creator a gratifying endeavour is the final product that spawns from 'the grind' and overcoming the roadblocks that throttle the creative process an individual might have.  INU-OH bundles the good with the bad, not just to create a relatable experience but also to demonstrate that anyone can produce great art, even if the cards are not stacked in your favour.
INU-OH offers its viewers a beautiful showcase of creativity from its staff, voice cast and characters as well as a pragmatic insight into the challenges that come with making them.  Some stories are fixed to the climate that they were made in, while others are able to transcend it – Tomona and Inu-Oh's manages to do the latter.  It is a fascinating film because it goes above and beyond in highlighting the evergreen issues that come with being an artist, making it extremely relevant to a modern-day audience.  If there is one thing you should take from INU-OH it is to continue to create – and more importantly, create art that represents who you are as a creative and person.  Art gives us the opportunity to invite others into our own personalised worlds and experiences, even if they are fictional.  Make things that are undeniably 'you' and share what makes you unique with the world.
Notes
[1] Yuka and Tomohiko have a 'complicated' romance in Kemonozume (2006) because Yuka is a flesh-eating monster while Tomohiko is a human and member of a group called 'The Kifuken' who hunt her kind.
[2]  Wenge Kong is one of the supporting characters in Ping Pong the Animation (2014).  His arc revolves around him proving himself to the rest of the show's characters after leaving his life behind in China and moving to Japan, since he was kicked out of his table tennis team.
Like our content? Feel free to support us on Ko-Fi!
You might also be interested in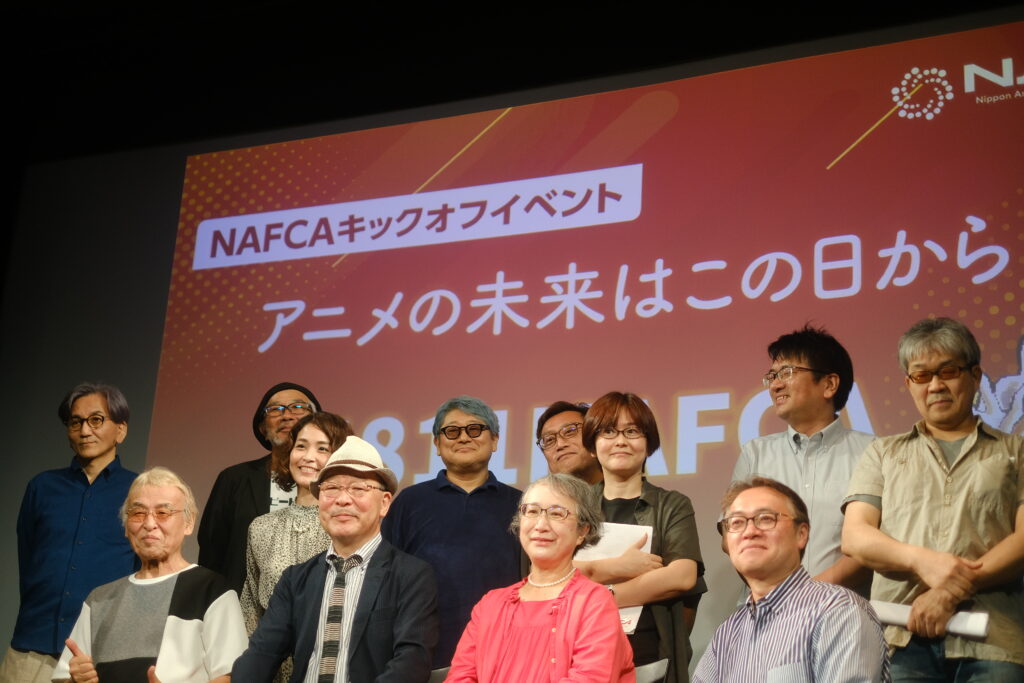 Building anime's future – NAFCA Kick-off Event
Earlier this year, we have seen the rise of a new organization set to defend the interests of people working in the animation industry, the Nippon Anime & Film Culture Association, or NAFCA. The association has laid out a roadmap of what it wants to achieve and...